PRESS RELEASE
Responsive Respiratory Publishes Comprehensive Oxygen Solutions Catalog
---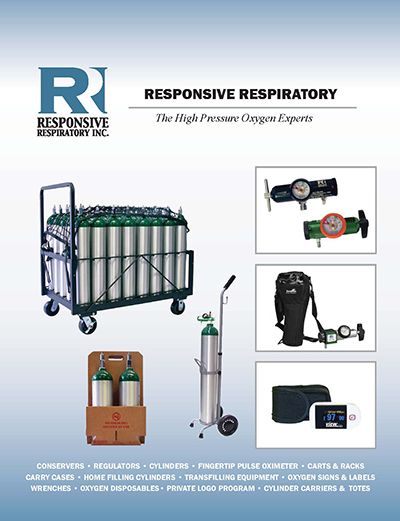 St. Louis, Missouri – (February 2016) – Responsive Respiratory introduces a new oxygen solutions catalog for 2016.

The comprehensive oxygen catalog highlights RRI's commitment to high pressure oxygen products and includes conservers, regulators and cases, carts, racks, cylinders and accessory items. "We've enriched our offering for 2016 with targeted solutions for Providers to streamline operations and enhance their marketing reach," states Tom Bannon, Responsive Respiratory President. "This catalog highlights our expanded cylinder cart and rack offering, specifically our modular warehouse and industrial lines. These sections enable Providers to select storage and transport solutions that fit their specific need."

The 2016 catalog also showcases Responsive Respiratory's expanded customization program. "RRI doubled its offering of customized products over the course of the last year," explains Bannon. "Providers now have the option to add their logo to conservers, cases, regulators, cylinders and labels, among others. The value of increased visibility to referral sources and improved asset control is tremendous with very little added cost." The customization program, also known as PLP: Private Logo Program, features low minimums and a fast 48‐hour shipping window after sample approval. "No other company in the industry can match our level of quality and service for custom products," notes Bannon.

The full color, glossy catalog is a complete respiratory resource guide for the home healthcare, hospital and EMS markets. Responsive Respiratory's new Oxygen Solutions Catalog is available for download in PDF format at www.respondo2.com or copies can be requested by phone at 866‐333‐4030.

About Responsive Respiratory ‐ ‐ Responsive Respiratory was founded in 2002 and is dedicated to providing high quality respiratory products for the home health care and hospital markets. RRI's full line of professional respiratory products includes: oxygen conservers, regulators, cylinder carts & racks and carry cases. For a complete listing of Responsive Respiratory's products, visit www.respondo2.com.