Integrating new methods and products into trauma care
EMS providers need to apply best practices for trauma patient triage and consider available products to improve patient survival
---
According to the Centers for Disease Control and Prevention (CDC), the leading cause of civilian death from age 1 to 44 in the United States is traumatic "unintentional injury."[1] EMS providers have to diligently stay up to date with the latest procedures and products in trauma care, as manufacturers continue to develop better ways to manage critically injured patients in the field.
Field triage
Field triage remains a vital initial component of prehospital care with the general goal of "Getting the right patient to the right place at the right time."[1] The CDC (2011) published guidance on the field triage process in "Guidelines for Field Triage of Injured Patients, Recommendations of the National Expert Panel on Field Triage."[2] Download the latest triage guidelines, visual flowchart, and numerous portable triage resources from the CDC website.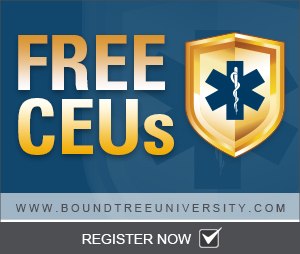 Daily field triage decisions made by prehospital professionals are supported by research and require effective critical thinking. Upon arrival at the scene of an injury, EMS professionals identify the severity and type of injury. Considering the evidence-based guidelines, prehospital professionals then determine which hospital or specialty care center would be most appropriate to improve patient outcome. CDC research supports the sound triage decisions of EMS professionals. Research demonstrates that the overall risk of death is 25 percent lower when care is provided at a Level I trauma center than when it is provided by a non-trauma center.[1]
Putting new products to the test
Treatment of the severely injured trauma patient in the prehospital setting should consist of assessment, extrication, initiation of resuscitation and stabilization, and safe, timely transport to the most appropriate trauma center whose capabilities match the patient's needs.[3] Virtually all essential trauma skills are BLS in nature: hemorrhage control, airway and ventilation support, stabilization of fractures and spinal protection. Time-consuming field interventions should generally be avoided so as not to delay definitive care.[3,4]
An increased influx of military research affords civilian EMS an effective means to incorporate new evidence-based practice toward leading causes of trauma mortality. Many of the new trauma care products in the civilian market made their debut during military operations in the Middle East and Afghanistan. With the emergence of a plethora of new products that have flooded the market, EMS providers have a wide variety of equipment and supply choices to apply to trauma care.
Hemorrhage control bandages
These bandages are elastic in nature so they can be applied as a pressure bandage. Some of these are in a convenient roll format for easy packing and wrapping wounds. A few bandages combine the Celox™ hemostatic agent to better control life-threatening blood loss directly at the source of bleeding. It is suggested that when placed directly into a bleeding wound and subjected to pressure, Celox™ absorbs blood and forms an adhesive gel that seals the wound to stop hemorrhage. According to the manufacturer, Celox™ does not set off the normal clotting cascade and does not set off a blood clotting response which would lead to clots being formed at a distance from the product.
Some of these products on the market are represented by QuikClot® EMS Rolled Gauze™, QuikClot® EMS 4x4 Dressing, Dynarex Dyna-Stopper Trauma Bandage, Cederroth BloodStopper, and BioStat LLC Celox™ Z-Fold Gauze. The SWAT-T™ offers the combination of a tourniquet with a multipurpose-pressure dressing, and elastic bandage.
Israeli bandages
The Emergency Israeli Abdominal Bandage is a valued combat first-aid device for controlling traumatic hemorrhage. This abdominal bandage consolidates multiple first-aid devices such as a primary dressing, pressure applicator, secondary dressing, and a quick closure apparatus to secure the bandage in place. It is suggested that the non-adherent pad applies pressure to any site, can be easily wrapped and secured, and has an additional application similar to a tourniquet to further constrict blood flow. Some combat wounded veterans have reported that an injured person can self-apply the bandage with one hand.
Multi-trauma dressings
These bulky dressings can be utilized for major trauma and wound bleeding control. Most are constructed of a soft, nonwoven facing with highly-absorbent fillings in the material. It is suggested that these dressings are designed to provide effective padding and protection for major wounds. The GAM Multi Trauma Dressing comes as large as 12-inch x 30-inch. Other dressings include the Dynarex Dyna-Stopper Trauma Bandage, Dynarex Multi-Trauma Dressing, and Medstorm Multi-Trauma Dressing.
Hemostatic agents
Hemostatic agents are commonly in the form of powder, gel or granules and are used with dressings and bandages to control life-threatening hemorrhage. They come in a wide variety of applications—sponges, packets, syringes/plunger applicators, and impregnated in gauze. BioStat LLC Celox-A is applied by a plunger system so that the hemostatic agent can be delivered deep into small traumatic wounds. QuikClot 1st Response™ Hemostatic Agent is activated by applying the sponges into and over the wound. BioStat LLC Celox™ Granules are applied by sprinkling the granules over the wound then a dressing and bandage is applied.
QuikClot Combat Gauze® LE is a 3-inch x 4-yard strip of folded soft, white, nonwoven, hydrophilic gauze impregnated with kaolin. Kaolin is an inorganic mineral that is both safe and effective in accelerating the body's natural clotting cascade.[6] ActCel Hemostatic Gauze created from regenerated cellulose is reported to be an effective, U.S. patent pending hemostatic agent. Recently approved by the FDA, the XStat® is a pill tablet-sized sponge hemostatic device for the treatment of gunshot and shrapnel wounds. When applied it rapidly expands making it effective for irregular wounds and junctional wounds in the groin or axilla that are not amenable to tourniquet application.
Chest seals
Development of a tension pneumothorax is a common life-threatening complication of an open chest wound. All open chest wounds should be treated by immediate application of a vented chest seal to cover the defect. If a vented chest seal is not available, use a non-vented chest seal.
Monitor the patient for the potential complication of a tension pneumothorax. If the patient develops increasing hypoxia, respiratory distress, or hypotension due to a tension pneumothorax, treat the by removing or "burping" the dressing or by performing a needle decompression.[11] Recent studies demonstrated that a vented chest seal prevents the subsequent development of a tension pneumothorax, whereas use of a nonvented chest seal does not.[5]
The Curaplex Halo Occlusive Seal is a non-vented design that is a choice for managing penetrating chest trauma. Asherman Chest Seal, Curaplex HALO Vent, and SAM® Chest Seal are vented devices that offer a self-adherent occlusive dressing designed for treating open chest wounds.
Pelvic binders and immobilizers
The SAM Pelvic Sling™ II, Hip Wrap™ Hip Immobilizer and Pelvic Stabilizer, and Morrison Spectrum Pelvic Immobilizer offer reduced movement of the hip and pelvis with a force-controlled circumferential pelvic belt. They are designed to safely and effectively reduce and stabilize open-book pelvic ring fractures.
Tourniquets innovations
Tourniquets simply work by drastically reducing or completely obstructing distal blood flow to the vascular injury of the affected extremity. Optimal use of a limb tourniquet must result in both controlling of hemorrhage and cessation of the distal pulses in the affected extremity.
Many commercial limb tourniquets feature a wider compression pattern than older tourniquets, improving circumferential and arterial compression. Some of these products include the SOF® Tactical Tourniquet-Wide (SOF®TT-W) and the m2 Inc Ratcheting Medical Tourniquet™. The SWAT-Tourniquet™ (SWAT-T™) suggests a more rapid means to control extremity bleeding and allows application higher into the groin and axilla than other tourniquets.
Junctional bleeding occurs between the trunk and the limbs (high level amputations) and between the pelvic area and legs. The most common type of junctional bleeding is groin hemorrhage. Traditional tourniquets are unable to be placed in these areas. Junctional tourniquets (also called truncal tourniquets or combat clamps) are fitted with target compression devices that can be specifically positioned over the injury site and pumped up until the bleeding stops. Common uses of junctional tourniquets include controlling inguinal and axilla hemorrhage, and stabilizing pelvic fractures.
Junctional tourniquets available on the market include the Combat Application Tourniquet® (C-A-T®), the Special Operations Forces® Tourniquet-Tactical (SOF®TT), the Emergency and Military Tourniquet, Combat Ready Clamp® (CroC®), Junctional Emergency Treatment Tool™ (JETT™), and the SAM® Junctional Tourniquet.
Special immobilization equipment
New immobilization products continue to launch into the market despite the growing body of evidence questioning the efficacy or necessity of spinal immobilization.
The Hartwell Combicarrier II reports reduced "unnecessary movement" and a concave patient surface, making it a choice for patients with suspected hip, pelvic, and spinal injuries. This device can be used as a scoop stretcher or full backboard. 
The MedSource Pediatric Immobilization Board allows for the securing of each leg separately and is MRI compatible. The Ferno Scoop™ EXL Stretcher offers two hinged, interlocking pieces that allow operators to bring the two halves together beneath the patient which reduces the need to log roll the patient.
There are many new products and devices on the market to be considered for prehospital trauma care. EMS providers should carefully weigh the pros and cons of each device, and how it can be used most effectively in their system. The results on trauma patient morbidity and mortality from civilian field of these products will determine its success in the marketplace.
References
1. Centers for Disease Control & Prevention (CDC). Ten Leading Causes of Death and Injury. (2014, November 14). Retrieved from http://www.cdc.gov/injury/wisqars/leadingcauses.html 
2. CDC. Guidelines for Field Triage of Injured Patients, Recommendations of the National Expert Panel on Field Triage. (2015, March 04). Retrieved from http://www.cdc.gov/mmwr/pdf/rr/rr6101.pdf
3. American College of Surgeons Committee on Trauma (ASC-COT). (2014). Resources for the optimal care of the injured trauma patient. Retrieved from FACS 
4. Sanddal, T. L., Esposito, T. J., Whitney, J. R., Hartford, D., Taillac, P. P., Mann, N. C., & Sanddal, N. D. (2011). Analysis of Preventable Trauma Deaths and Opportunities for Trauma Care Improvement in Utah. The Journal of Trauma: Injury, Infection, and Critical Care, 70(4), 970-977. doi:10.1097/ta.0b013e3181fec9ba
5. Butler, F. K., Dubose, J. J., Otten, E. J., Bennett, D. R., Gerhardt, R. T., & Kheirabadi, B. S. (2013). Management of open pneumothorax in tactical combat casualty care: TCCC guidelines change 13-02. Journal of Special Operations Medicine, 13(3), 81-86.
6. Sena, M. J., Douglas, G., Gerlach, T., Grayson, J. K., Pichakron, K. O., & Zierold, D. (2013). A pilot study of the use of kaolin-impregnated gauze (Combat Gauze) for packing high-grade hepatic injuries in a hypothermic coagulopathic swine model. Journal of Surgical Research, 183(2), 704-709. doi:10.1016/j.jss.2013.02.039

Request product info from top EMS Airway Management companies
Thank You!