Calif. commuter train derails after crash with tractor-trailer
At least 30 people injured in collision that derailed three of the train's passenger cars
---
By Joseph Serna
Los Angeles Times
OXNARD, Calif — A Metrolink train derailed in Oxnard early Tuesday after colliding with a tractor trailer on the tracks.
The collision occurred about 5:55 a.m. at the Rice Road crossing, Metrolink spokesman Scott Johnson told the Los Angeles Times.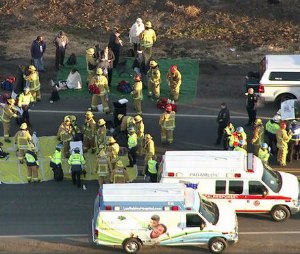 The collision derailed three of the passenger train's cars and injured at least 30 people, he said. He could not confirm initial reports of casualties.
©2015 the Los Angeles Times