PRESS RELEASE
EMS eSchedule introduces Document Library
---
Fairport, New York, - EMS eSchedule announced today the release of their new online document library. Upload documents in any format and make them available to employees and members. Put operation manuals, training documents, policy, procedures and other files online. Create folders to organize documents. Share files with the entire organization or limit access to specific employees or members. Contact us today for a demo.
EMS eSchedule is a powerful Internet based workforce management solution. Streamline your scheduling, time and attendance, payroll, training, certification tracking, and more. EMS eSchedule can accommodate a variety of organizations including volunteer, combo, municipal, commercial, small or large.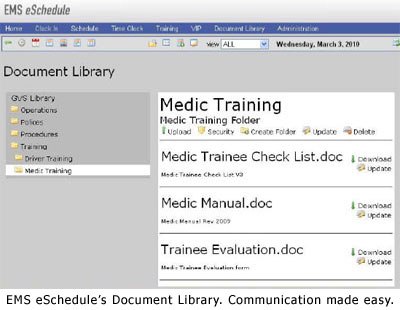 Request more info from eSchedule
Thank You!