Spotlight on EMS Today 2008
---
By Maveric Vu
EMS1 Staff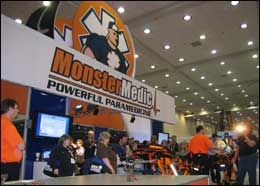 Photo by Maveric Vu
Monster Medic makes its debut with a beast of a display booth at EMS Today.
BALTIMORE — Thousands of EMS personnel descended onto the scene of the 2008 EMS Today conference in Baltimore this past week.
In what can be best described as an orgy of flashing lights, polished metal, and CO2 screening devices, the focus on everybody's mind was sniffing out the hottest trends for the upcoming year.
The major distributors and vendors were present and erected mini-monuments to house their latest equipment and products.
Well-established veterans like Physio-Control, Laerdal, Philips and Masimo all had prime booths near the main entrance to the Baltimore Convention Center showroom floor.
Newcomer Monster Medic's gargantuan display booth staked out a prime location as it unveiled its cot line for the first time to throngs of attendees.
While vendors unveiled new products that further refined upon existing technology, initial assessment was mixed among attendees.
Assistant Captain Jack Boyle, a 20-year veteran with Cornwall Volunteer Corp. in N.Y., was a little under-whelmed with this year's conference.
"There seems to be less vendors here than in the past," Boyle said, who attended the conference with his wife.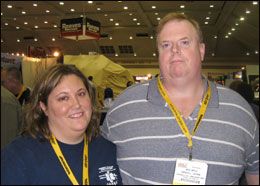 Photo by Maveric Vu
Jack Boyle, with Cornwall Volunteer Corp. in N.Y., checks out product booths with his wife at EMS Today.
But even Boyle, who has visited numerous tradeshow conferences in the past, found a few new products to get excited about. The Rad-57 non-invasive, CO-oximetry device by Masimo was a favorite among Boyle and many other providers. He also was impressed by Z-Medica's Quik Clot, a hemostatic agent able to clot moderate to severe arterial and venous bleeding.
While the showroom floor was abuzz with vendors, educational workshops dominated the rest of the conference weekend.
"There were some good courses," Boyle said. "I learned a lot."
Boyle attended "EMS Special Events," one of many CE workshops held throughout the three-day conference. Topics ranged from intubation strategies to approaches to pediatric care and were taught by some of the most recognizable names in the industry, such as
Dr. Bryan Bledsoe
and Steve Berry.
First-time attendee Patrick Durante, a second lieutenant with Valhalla Ambulance in N.Y., was looking to spend some money. His department expects to purchase a new ambulance next year and Durante needed to check out the latest offerings.
Numerous apparatuses were on display on the floor from trusted distributors, such as Braun, Excellance, Inc. and MedTec. Durante tagged Frazer Ltd. as a top choice, emphasizing solid metal construction and wood-less material use.
"I'm excited," Durante said. "This is very interesting. I didn't realize that there are so many different aspects to see of things in the industry."
Audrey Jennings, a training coordinator with Grand County EMS in Colo., was drawn to the crowd at the Physio-Control booth, where an instructor was detailing the specifics of capnography.
While capnography has been used for quite some time, it has recently been garnering more attention, Jennings said. Her department is one of several agencies that use invasive and non-invasive capnography devices in their protocols.
"It's really becoming the gold standard in EMS," she said.
However, for Jennings, the conference was less about vendors and products and more about spending time with a diverse set of providers.
"The way they do things on one side can be really different from the other side," she said. "They may do some things better and we can all learn the different way to do things."
The excitement on the showroom floor quelled as the conference wrapped up on Saturday afternoon.
At the closing ceremonies, several awards were given to notable providers.
James O. Page Leadership Award
The James O. Page Leadership Award was presented to Mark Venuti, a paramedic in Flagstaff, Ariz., and director of Guardian Medical Transport. Venuti said that he only received the award due to his great peers who support him.
The 2008 Nicholas Rosencrans Award
The 2008 Nicholas Rosencrans Award, given to providers who promote injury prevention and innovation, was given to the Frisco Fire Dept., based in Texas, for its Safety Town, a scaled-down replica of Frisco, Texas.
JEMS Games Winners
Fire Department, City of New York garnered first place in the 2008 JEMS Games clinical competition. FirstHealth Regional EMS got second, and Kanawha County EMS placed third.
By Saturday evening, vendors began tearing down their booths as providers emptied out of the convention center. Some of the weary-eyed individuals shuffled slowly with their bags filled with free gifts as they thought about their flight home.
Others looked on excitedly as they joined their crewmates for one last night off on their way to the crowded local bars on the streets of downtown Baltimore.