How web-based ePCR provides a long-term solution for Miramar Fire-Rescue
Electronic health records and other reporting tools from ESO Solutions helped streamline documentation at a pioneering Florida agency
---
Sponsored by ESO Solutions
By Mike Rubin for EMS1 BrandFocus
When paramedic/firefighter Frank Vrklan joined Miramar (Florida) Fire-Rescue in 1994, his new employer was documenting patient care the old-fashioned way: on paper.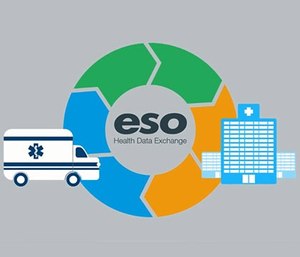 "The battalion chief used to drive to each station every morning and pick up the medical reports," said Vrklan. "They had to be collected, sent to administration for QA, then forwarded to billing. There was a huge delay in turnaround."
With handwritten PCRs the norm throughout EMS, there had been no urgency at Miramar to explore digital data management tools. That changed a year later.
An early push for ePCRs
"Broward County got a grant and bought first-generation ePCR software for us in '95," said Vrklan, now a battalion chief himself. "It was an old DOS application that nobody really knew how to use. Most of those computers ended up in closets."
But Miramar's EMS chief was determined to make the primitive program work. Vrklan's technical background qualified him as the department's most capable in-house resource.
"We actually got it up and running," he said. "That meant we were one of the first agencies in the country with electronic mobile reporting."
But the system was difficult to manage with Miramar's limited IT support. Even worse, users started losing data.
"Mobile-to-mobile transmissions were overwriting each other," Vrklan said. "Instead of adding to a patient's record, we'd end up erasing whatever had already been entered."
Time for a change
By 2014, Miramar Fire-Rescue was answering 10,000 EMS calls annually. The squad, started by 30 volunteers in 1955, had grown to an all-paramedic organization of 150 sworn members serving a population of 130,000 in a district 10 times the size of its original boundaries.
It was time to stop struggling with antiquated software and find a more modern, less labor-intensive alternative.
"Some of our EMS chiefs and captains went to a trade show to see what systems were out there," Vrklan said. "After bringing in a few sales reps for demonstrations, we went with ESO's Electronic Health Record (EHR) package."
Probably the biggest factor was finding a platform that was hosted by the vendor.
"That meant the whole cost and headache of dealing with in-house servers was gone," Vrklan said. "We had to make sure our trucks had internet capability, but from then on, it was just a matter of connecting to a web page. EHR even has an option to work offline if you're away from Wi-Fi."
Vendor support makes troubleshooting easier as well.
"Since the software is maintained by ESO, there's a single point of contact for all issues," he said. "No more chasing down someone from your own IT department, then debating whose problem it is."
Sharing data adds transparency
An important advantage offered by ESO is the ability to receive and transmit patient information through its Health Data Exchange (HDE), a set of communication protocols allowing ePCR products like EHR to swap bits and bytes with hospitals.
"All we have to do is scan the patient's ID bracelet at the ED and our PCR gets sent," Vrklan said. "Before, we'd have to print a copy of our report and leave it for them."
The flow of information in the opposite direction – from the hospital to the field – can be just as important.
"Our crews think it's pretty cool to be able to follow up electronically on diagnoses and outcomes," Vrklan said. "That feedback is helpful, especially on critical cases. It's much easier than trying to find a nurse or doctor who knows what happened with a particular patient."
Another EHR feature Vrklan appreciates is integration with ESO's fire module.
"We used to submit only our fire calls (about 2,000 per year) to the national fire information system," he said. "When it came time for grants, they'd pass us over. Now all of our EMS calls are automatically transmitted to NFIRS, too."
Post-implementation payback
Installing EHR posed no extraordinary challenges for Miramar, partly because of the experience they already had with high-tech record keeping.
"Implementing ePCR is mostly about people getting used to computers on ambulances," Vrklan said. "Sometimes there are compromises in real-time documentation, but in most cases, our medics are done with their reports by the time they get to the hospital."
He said the ESO system makes it easy for medics to complete reports and find information.
"The screens coach you through entries with prompts and drop-down lists," he said. "There are rules built into the software to make sure you fill in the proper information. There's even reference material like treatment protocols that you can look up if you like."
Vrklan said Miramar's benefits from state-of-the-art information management have been significant.
"We've seen a decrease in hospital turn-around time, faster payments and a reduction in time and effort to do quality assurance," he said. "We also get system-enforced validation of NEMSIS-compliant data, and even savings on paper. As a long-term solution, EHR has been the right choice for us."

Request information from ESO
Thank You!