Wrench designed by medic, for medics
Joshua Knapp said he created his first oxygen wrench five years ago purely out of the personal need for a more useable tool
---
By Erin Hicks
EMS1 Associate Editor
If you're like many in EMS, you're always looking for a useful combination tool that can reduce the load you have to carry while making your job a little easier.
Few products are created for responders, by responders. That's just one of the many features that makes the oxygen wrench by WANTYNU useful and unique.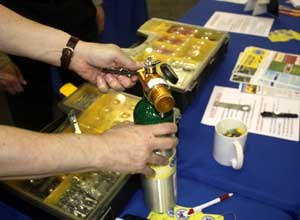 President of WANTYNU and full-time paramedic, Joshua Knapp said he created his first oxygen wrench five years ago, purely out of the personal need for a more useable tool.
"I have a mechanical background, and I've grown up around machine shops so tools are second nature to me," Knapp said. "When working with oxygen I was using what was available for the job, I hated it.
"Typically oxygen tank wrenches are made from cheap plastic or stamped metal, and they're flat and uncomfortable to hold as well as being either too heavy, or too weak for daily repetitive use."
He said the final straw happened when he had a wrench break on him. "I got annoyed and thought, there has got to be a better way of doing this. So I went to work on making something better, a tool designed for the job."
In the beginning, he was manufacturing the first generation/prototype of the wrenches, the TK1 and TK 2 by hand — each one took around an hour to produce. When he saw his partners and colleagues had a desire for it, he decided there was enough interest to start a business.
Since then, there have been three versions of the wrench on the market. The TK1, TK2, and the TK3 which came out just this past October.
All are made from strong, lightweight aircraft-quality aluminum alloy. The TK1 is a more traditional end socket wrench, the TK2 is a center positioned "T" handle providing slightly different body mechanics to accomplish the same job, and the latest, the TK3 model comes enhanced with an impressive window punch that can break a window with a simple tap, and a bottle opener.
Knapp said this was his third time at EMS Today, and that the products are usually always well received.
"In the EMS community there is a lack of products that are designed by people who use them on a daily basis. That is something that we need more of. This oxygen wrench works so well because it's designed by someone who has to use it as part of their job." he said.
WANTYNU is a New York based privately owned company that's been producing high quality oxygen wrenches since 2006. You can see demonstration videos and order online at wantynu.com.