Taking control: The Reeves Incident Command Post
Trailer and shelter system provide unique, all-in-one incident command station
---
By Scott M. Bruner 
EMS1 Product Editor
DHS Systems LLC has unveiled a new tool for building effective incident command stations. The Reeves Incident Command Post Trailer is specifically designed to offer a comprehensive, mobile command center to deal with any number and type of emergency incidents. Designed to fill any number of roles from a fully functioning incident command post to a point of distribution center, the Reeves Incident Command Post (ICP) Trailer aims to offer responders a safe, secure and fully functioning station to handle any situation.
The Incident Command Post consists of a trailer and shelter designed to function in a number of configurations. It can be configured for fire and rescue, law enforcement or disaster management as well as provide communications interoperability between all agencies by establishing an all-in-one emergency communications post. The ICP can be configured by DHS Systems to provide satellite communications, Internet access, and integrated command and control systems.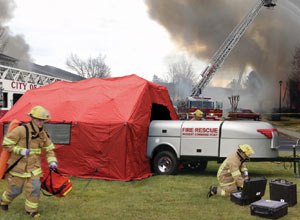 "We wanted equipment that would let us run operations from any location, especially in the event that we can't get our department operations center up and running," Gregory Hall, Public Health Emergency Preparedness Coordinator in Indiana, said. "I was impressed with the way you can hook it [the Reeves ICP] up to a truck and take it anywhere in the county without requiring a great deal of manpower."
The ICP is the newest product in DHS Systems' Reeves line of emergency medical products.
It comes in a variety of sizes and configurations with the base version weighing less than 3,000 pounds. The trailer has a 4 inch steel chassis and 18 inches of ground clearance. The trailer is lightweight enough to be towed behind most emergency response vehicles.
The insulated shelter is military-grade featuring a frame-supported double wall durable enough to withstand winds of up to 65 mph, as well as free falling and blowing rain.
The ICP is constructed from the same materials as DHS Technologies' Deployable Rapid Assembly Shelter (DRASH) system. The base version of the ICP starts at $36,000.
The Reeves ICP Mobile Command Trailer System is an extension of DHS Systems LLC, a provider of high-tech, soft-walled shelter systems serving medical, military, government and civilian needs. DHS Systems also offers a full line of emergency medical products and accessories through its Reeves EMS brand, including decontamination systems and equipment and patient movement equipment.