Reeves' DRASH offers dynamic shelter solution
Shelter system designed for most demanding conditions
---
By Brian Ward
EMS1 Contributor
If you are considering purchasing shelter systems for any of the numerous possibilities they can be used for, Reeves EMS Shelter Systems are worth looking at. The Deployable Rapid Assembly Shelter (DRASH) can be constructed for several situations including casualty collection points, emergency operations centers, incident command posts, fatality management centers, incident camps, medical surge facilities, mobile field shower systems and outdoor patient isolation systems.
Within each of these categories, different options are available such as square footage, hardened floors, lighting, generators, visual screens, smart tables, and cots.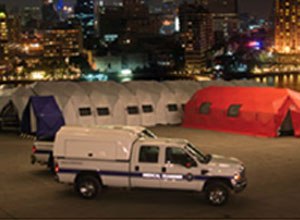 The DRASH Shelter System has been in use for more than 20 years by both the military and NATO forces. Literature on the Reeves Shelter Systems states that it has been tested on the United States military testing grounds to withstand high winds, rain, snow, sleet and extreme temperatures ranging from -50 degrees Fahrenheit to over 131 degrees Fahrenheit. In addition, most of these shelters can be set up within a matter of minutes with the use of 2-6 personnel, depending on the size of the shelter.
The DRASH Shelter System is comprised of a frame with two pre-attached covers and a ground cover. With the use of the pre-attached covers, no special tools or parts are required to construct the cover. The structural components within the shelter have been developed with the use of Titanite. The Titanite has 270 percent more flex strength than aluminum for the same diameter cross-sectional area.
The cover uses a fabric known as Xytex to provide a natural insulation that keeps out the winter cold and the summer heat. The Xytex is coated to provide a fire retardant, mildew resistant, water repellent and abrasion resistant cover.
For additional information visit www.ReevesEMS.com.
Brian Ward is a firefighter/acting officer with Gwinnett County (GA) Fire Department. He is a past training officer and chairman of the Metro Atlanta Training Officers. He is a State of Georgia Advocate for Everyone Goes Home and the Membership Task Force Co-Chair for ISFSI. Brian was recently awarded the National Seal of Excellence from the NFFF/EGH. He has an associate's degree in fire science and is completing his bachelor's degree with the University of Cincinnati. He is the founder of FireServiceSLT.com and Georgia Smoke Diver #741.