Why modern-day emergency scenarios necessitate added protection for first responders
A national push from the government to outfit first responders with the right protective gear and the proper training for effective use would show support and respect for first responders
---
Sponsored by Armor NOW
By Andy Bershad
NYPD Detective and Haz Mat/Rescue Specialist FEMA, Advisory Board, Armor NOW
Imagine first responders arriving on the scene today of an all-too-common active shooter emergency. The area is chaotic, people are injured and trying to flee, and there is disorienting noise and smoke as police try to secure the area. The first responder's job is – as it always has been – to provide critical care to victims. However, responders are more and more often entering still-hostile environments where bullets may rain down or planted homemade bombs could explode at any time.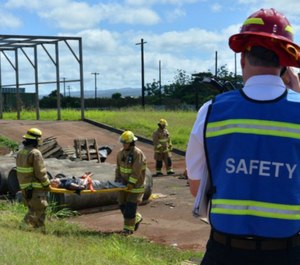 We also need to address changing times with real action. While all first responders – emergency medical services, firefighters, paramedics and others – face increasingly dangerous scenarios, the system hasn't kept up with their needs.
It's critical that Congress act now to help expand access to body armor for first responders. Because of the lack of funding, low prioritization, not enough training and even misconceptions among first responders themselves, too many go unprotected into dangerous situations.
I see it on the streets of New York almost every day. From big news events like a pipe bomb detonating in a Port Authority subway tunnel to the "routine" domestic call that takes a dangerous turn when an armed and angry parent threatens to harm the people helping their child, EMS are on the new front line of emergency response.
Law enforcement and medical associations agree. The Hartford Consensus, undertaken by the American College of Surgeons and FBI in 2012 to create national policies to improve survivability in intentional mass casualty incidents, reached as one of its first conclusions that "it is no longer acceptable to stage and wait for casualties to be brought out to the perimeter."
While the focus of the Consensus tackles improved training and coordinated responses such as bleeding control to improve victim survival, one of its specific recommendations is the "use of ballistic vests" along with training for all first responders.
However, that takes funding. When I first began working in EMS in the late 80s, my commanding officer suggested I buy myself a bullet-resistant vest because there were none issued. While some departments around the country purchase personal protection equipment with their own budgets or by applying for the handful of grants that are out there, it is unfortunately, still the case for far too many emergency responders to have to buy their own or go without.
According to an Armor NOW survey,  about three-fourths of EMS respondents say their organization doesn't currently provide body armor, and a similar percentage of firefighters say they don't think their departments are properly prepared for high-threat situations.
Wherever there is a gun there is the potential for penetrating trauma, and we're increasingly bringing first responders into those situations. With the use of new rescue task force models, first responders are being integrated into teams going into warm zones or even hot zones to save lives. Don't get me wrong, we want to get in as quickly as possible and save as many people as possible. But we want to do it safely with the right equipment and training.
A national push from the government to outfit first responders with the right protective gear and the proper training for effective use would show support and respect for first responders and the critical work they do. This issue goes beyond active shooter situations because the potential for a first responder to face a gun during seemingly everyday duties is just as real a threat. 
One first step could be expanding the Bulletproof Vest Partnership grant program to include all first responders. Currently, the program only applies to law enforcement agencies. The BVP has to date provided $430 million in federal funding in body armor specifically for law enforcement officers, giving grants to more than 13,000 large and small departments across the country.
Because whether you have a 10-person or a 1,000-person department, first responders are the ones that stand between the patient living or the patient dying—and more and more often, between the bad guys and freedom. We need to do a better job protecting those who protect us—we owe them that.
Visit Armor NOW Academy to learn more about the basics of body armor.

Request information from Armor NOW
Thank You!