PRESS RELEASE
CPR Pillow Aids EMS in providing proper ventilation to patients
---
On 12/2/19 CPRP llc was granted the affordability to market its proprietary device to include "Intubation" in accordance to 868.6820 - CFR - Code of Federal Regulations Title 21.
Successful intubation starts with proper positioning of the head and neck region.  There are a few different ways to accomplish endotracheal intubation but none as successful as the sniffing position or otherwise known as the "head tilt chin lift position".   
Initially the CPRP had great success with a focus on CPR performance by providing proper alignment for compressions and ventilations. But with the update in classification the products dual functionality can now reach a broader target market of hospitals, healthcare facilities / nursing homes, police, emergency responders, public spaces, schools and arenas with qualified medics and trained first responders.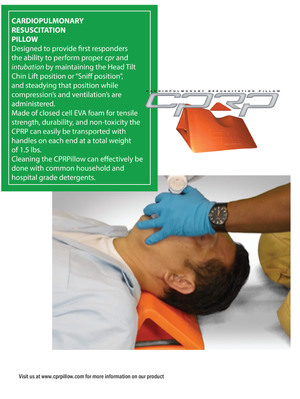 "I've had 2 codes this week and I've had a great experience using the CPRP (Cardiopulmonary Resuscitation Support Pillow). This new tool we have, provides increased support, and allows the patients airway to remain in a position that allows the provider to deliver effective ventilation's. The provider delivering breaths, I feel, has a better time managing the compliance of the patient's ventilation. Insertion of an advanced airway while this device is in place has helped a lot as well. The provider doesn't have to worry about moving the patient's airway into the correct position, because it already is and remains in that position. Overall, I've had a very positive experience with this new tool and I am very grateful that we have this in our code bag.  Thank you"
-John Adams, AAS, ALA, NR-P   Delta Ambulance Paramedic 
There is a level of difficulty when performing intubation which requires a skillset to be successful when inserting a laryngoscope.  The CPRPillow, an adjunct device for medics, steady's the patient's head and neck in the sniff position to alleviate the risk of the patient falling out of place during the intubation procedure.
"There are more than 356,000 out-of-hospital cardiac arrests (OHCA) annually in the U.S., nearly 90% of them fatal, according to the American Heart Association's newly released Heart and Stroke Statistics—2019 Update.[1] According to the report, the incidence of EMS-assessed non-traumatic OHCA in people of any age is estimated to be 356,461, or nearly 1,000 people each day."
| | | |
| --- | --- | --- |
| Characteristics of and Outcomes for OHCA |   |   |
|   | Adults | Children |
| Survival to hospital discharge | 10.4 | 11.1 |
| Good functional status at hospital discharge | 8.4 | 9.9 |
| VF/VT shockable | 18.7 | 8.0 |
| Public setting | 18.8 | 14.6 |
| Home | 69.5 | 85.3 |
| Nursing home | 11.7 | 0. |
ORIGINAL SOURCE: American Heart Association; Summary compiled by Mary Newman, MS, Sudden Cardiac Arrest Foundation
The CPRPillow provides medics, first responder's and healthcare professionals a free hand to operate a pocket mask or a bag valve mask without the hassle of trying to successfully maneuver and hold the victim in the sniff position (head tilt chin lift position).  ​Rescue breaths are critical to performing proper CPR.  These rescue breaths provide much needed oxygen-rich blood for the victim's vital organs.  Compressions allow the oxygen rich blood to circulate throughout the body. In some cases endotracheal intubation is necessary when saving a life, or in surgical scenarios where the patient needs a breathing apparatus. The CPRPillow provides effective assistance under these conditions. 
Visit www.cprpillow.com for more information.