PRESS RELEASE
Priority Ambulance Leadership Foundation announces 2019 sponsors
---
The Priority Ambulance Leadership Foundation is pleased to announce its sponsors for the 2019 program year, which includes the inaugural EMS Leadership of Tomorrow executive development program.
"Our sponsors play a vital role in helping us achieve our mission to educate and mentor the next generation of EMS leaders," said Bryan Gibson, Chairman of the Board. "We are proud and very grateful to partner with a stellar lineup of industry supporters and look forward to an exciting year ahead."
The Foundation's 2019 EMS Leadership of Tomorrow class will be announced in December and the accelerated leadership training course will begin in early 2019. The curriculum will provide students with in-depth training and hands-on instruction on multiple EMS tracks, including EMS system management design, clinical and compliance performance, risk management, business development, financial analysis, budgeting, communications technology and more.
"Our graduates will have the foundation they need to pursue long-term careers as emergency medical services leaders," said Foundation President Gary Coker. "They will be mentored by some of the industry's top executives and form relationships that will last a lifetime."
To date, the Foundation's confirmed sponsors are as follows:
Platinum Presenting Sponsors
Hub International is a leading full-service global insurance broker providing property and casualty, life and health, employee benefits, investment and risk management products and services. Nationally, HUB's 10,000+ employees are dedicated to providing effective risk management strategies, combined with best-in-class service to its clients. (www.hubinternational.com)
North Eastern Rescue Vehicles is one of the largest independent ambulance dealers in the country.  Its family of quality products include Wheeled Coach and other emergency vehicles in all of Vermont and New York, with the exception of Nassau, Suffolk, Queens, Kings, Rockland and Westchester counties, as well as supporting Priority Ambulance's national growth.  (www.nervinc.com)
Wheeled Coach has been supplying its products to some of the largest fleets in the world since 1973. The company continues to innovate its ambulances with safety, comfort and reliability in mind to meet each of its' customers individual needs. (www.wheeledcoach.com)
Gold Sponsors
Enhanced Healthcare Partners is a healthcare-focused private equity firm committed to partnership with family and founder run businesses. Enhanced Healthcare Partners has over 100 years of combined experience investing in healthcare companies and possesses strong relationships and knowledge within the industry. The company specializes in collaborating with entrepreneurial businesses to catalyze growth and build great organizations. (www.enhancedhealthcare.com)
ZOLL manufactures and develops medical devices and software solutions focused on clinical quality assurance, optimized operations and data-driven analytics. The integration of cutting-edge, life-saving medical devices with innovative, data-management software solutions allows ZOLL to be on the forefront of pre-hospital and hospital technology. (www.zolldata.com)
Silver Sponsors
Avesta Corporation offers clients a comprehensive talent acquisition software suite tailored specifically to the EMS industry. Avesta also helps EMS organizations create strategies to bolster recruitment and automate HR processes such as screening, hiring and onboarding. (www.avestacorp.com)
Blue Cross Blue Shield of Tennessee is the Volunteer State's largest health insurer and has helped Tennesseans achieve peace of mind through better health for over 70 years. Today, BlueCross serves more than 3.5 million members and employs more than 6,000 people at its headquarters in Chattanooga and regional offices in Jackson, Knoxville, Memphis, Nashville and Johnson City. (www.bcbst.com)
InSight Mobile Data is a 20-year industry leader in fleet safety and management services for the EMS industry. InSight delivers a single software platform (StreetEagle®) that integrates driver behavior coaching/modification and monitoring, third-party apps (CAD, MDT, etc.), Wi-Fi connectivity, in-cab cameras, fuel management and AVL/mobile communications into one comprehensive solution. (www.insightmobiledata.com)
MidSouth Solutions provides promotional and marketing products, apparel and more  to customers throughout the nation. Founded in 2003, the company employs 33 industry professionals who combine old-school customer service values with cutting-edge technology to provide an efficient, friendly and accessible sales and production process. From concept to delivery, MidSouth Solutions provides artwork services, samples, outside the box ideas, as well as quick and flexible production schedules. (www.midsouthsolutions.net)
Paycor is trusted by more than 30,000 medium-sized and small businesses to help manage their most valuable asset—their people. Paycor is known for delivering modern, intuitive recruiting, HR and payroll solutions, but what makes the company legendary is its singular focus on helping business leaders, entrepreneurs, and HR professionals make a real difference in their organizations. (www.paycor.com)
Safe Drive Systems (SDS) provides affordable aftermarket collision avoidance devices designed to prevent or reduce the severity of the type of vehicle accidents that, according to the National Transportation Safety Board, cause 90 percent of vehicle fatalities. Founded in 2008 and headquartered in New York, the company is passionate about reducing fatalities on roads and highways around the globe, and as a result, more than 100,000 SDS systems have been deployed worldwide. (www.safedrivesystems.com)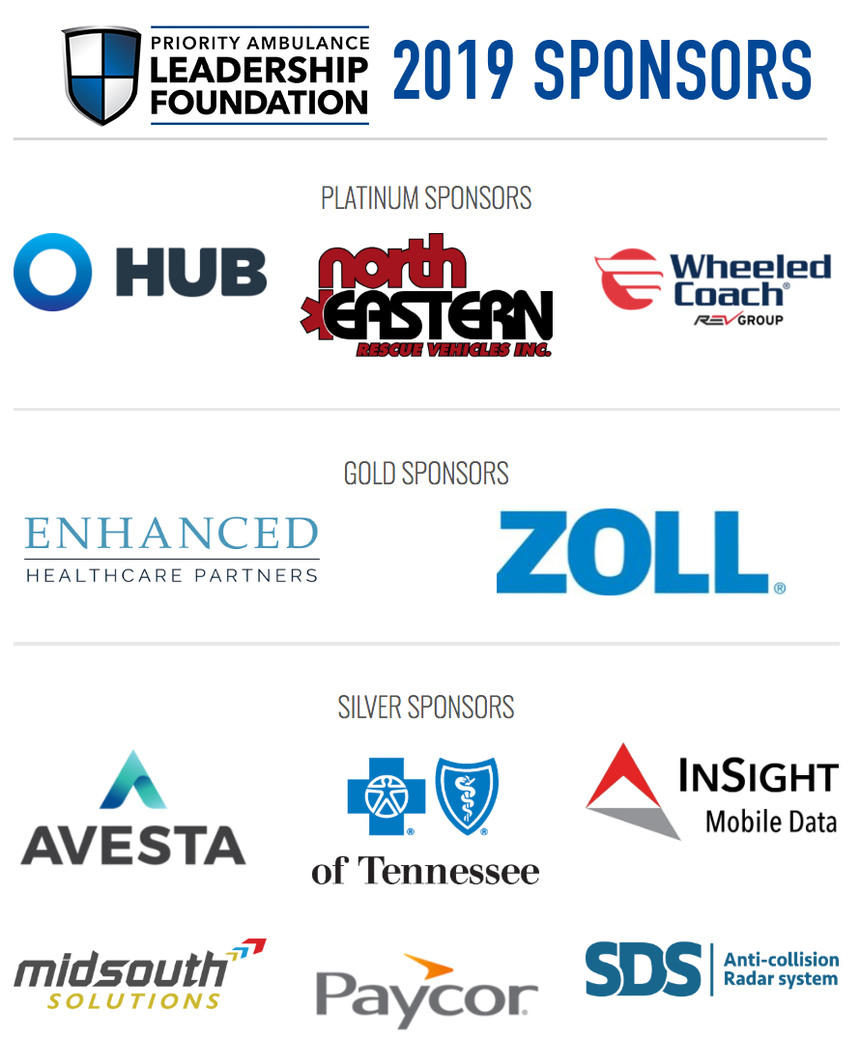 About Priority Ambulance Leadership Foundation
The Priority Ambulance Leadership Foundation is a non-profit organization dedicated to the next generation of EMS managers, executives and entrepreneurs. The Foundation's mission is to bridge the gap that exists in national management training and mentorship programs for EMS professionals.
The Foundation provides a year-long educational training and mentoring program to promising leadership candidates, accessing industry experts and resources to provide a premier EMS leadership training experience for graduates of its Flagship Management Training Program. The Foundation also provides public education programs in basic life-saving and first-aid skills. For more information, please visit www.priorityleadershipfoundation.org.

Request more info from Priority Ambulance Leadership Foundation
Thank You!