PRESS RELEASE
3 ways to improve your community paramedicine program
---
By Will Runyan, for Medline EMS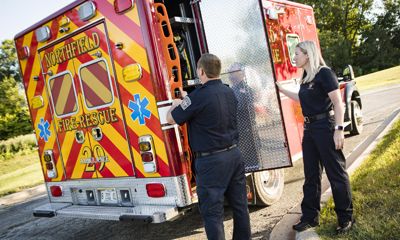 Amidst rising costs and dramatic changes to healthcare reimbursements, the entire system has been tasked with discovering new and effective means to prevent and manage chronic health conditions. Throughout the country, Community Paramedicine programs have proven effective, providing follow-up care, education, and referrals when additional resources are needed. At home operating in the field, EMS providers are an ideal choice for working with underserved patient populations outside of the traditional healthcare environment.
In their 2nd annual survey of Mobile Integrated Healthcare and Community Paramedicine (MIH-CP), the National Association of Emergency Medical Technicians found that 72 percent of respondents received their referrals from hospitals. While significant, hospitals are not the only providers realizing the benefit of a partnership with Community Paramedicine. Home healthcare, primary care, and local public health and drug rehabilitation agencies, are just a few of the groups aligning themselves with these programs.
While MIH-CP remains an emerging field in healthcare, the value it brings has long been established. Whether you currently operate a MIH-CP or are looking to get started, here are three ways to improve upon your program.
1. Develop an Interdisciplinary Approach
Like any successful venture, communication is key when it comes to coordinating with the different groups required to operate a successful MIH-CP program. Engage representatives from leadership in addition to front-line healthcare professionals. It is important for everyone to be on board with the mission, and to understand the organization's short and long-term goals.
Bring local law enforcement into the fold as well. Much like EMS workers, law enforcement officers have an intimate knowledge of the communities in which they operate and can provide the added benefit of security when providing care in potentially dangerous environments.
It can't just be EMS running the show. Interoperability between agencies is the only way to eliminate any gaps in communication.
2. Establish Job-Shadowing Programs
I've long held EMS to be one of the most misunderstood professions. With our own familiarity of the job leading to a blind spot, we as EMS professionals have a tendency to forget just how different our day-to-day duties are with regard to other healthcare providers, let alone members of the general public. Though ride-along programs have likely been in existence since the founding of our profession, they remain an irreplaceable tool in helping others understand our capabilities and the often extraordinary circumstances under which we operate.
When I was in Houston, our medical director encouraged local ER nurses to participate. On more than one occasion, they remarked on how eye opening and helpful it was to see how patients in the field. Similarly paramedics were required to spend time in the hospital. By shadowing one another, we established a relationship built on trust and understanding, which ultimately led to improved patient care.
3. Target Your Community Outreach
At the center of every effective MIH-CP program is the need for a consistent commitment to public outreach. This is nothing new for EMS. Like others, I've worked events educating parents on the proper installation of car seats, giving away bicycle helmets, and have spoken at public schools. While the effectiveness of these programs highlights the need for community involvement for EMS in general, it is important to be intentional when establishing outreach to the populations your program is looking to serve. An encouraging example can be found in the Community Paramedicine response to the opioid epidemic. By partnering with certified rehabilitation experts and state sponsored facilities, patients who were typically only seen by providers in the instance of an acute overdose are now given a chance at recovery.
At its heart, Community Paramedicine is about proactively managing the health of patients. To say this new role has been accepted without controversy would not be accurate. But to me, Community Paramedicine is simply an extension of the role we've always fulfilled as agents for public health.
Get details on smart solutions for EMS designed to take care of your business demands behind the scenes, allowing your teams to be on the scene.
About Medline
Medline is a global manufacturer and distributor serving the health care industry with medical supplies and clinical solutions that help customers achieve both clinical and financial success. Headquartered in Northfield, Ill., the company offers 550,000+ medical devices and support services through more than 1,600 direct sales representatives who are dedicated points of contact for customers across the continuum of care. For more information on Medline, go to www.medline.com or http://www.medline.com/social-media to connect with Medline on its social media channels.
About Will Runyan, Licensed Paramedic
Will Runyan is a licensed paramedic in Texas. Along with his LP duties, Runyan is a post-acute sales rep for Medline. Prior to Medline, he spent nearly 10 years as an active paramedic. Most recently, Will treated patients through EMS in Houston, Texas. His experience in the post-acute space includes working with electronic medical records software in home health and hospice. Runyan has his Bachelor of Business Administration in Marketing and Management from Abilene Christian University.

Request more info from Medline
Thank You!