Okla. officials: Dispatchers are 'priceless'
"Our dispatchers are the first line of defense for not only the people calling in, but for the officers and others who are out handling the calls in person"
---
Nathan Thompson
Bartlesville Examiner-Enterprise, Okla.
BARTLESVILLE, Okla. — They are often the unsung heroes in times of tragedy.
With a calm, yet decisive voice, Bartlesville Police Department Dispatcher Teri Roberts answers a call.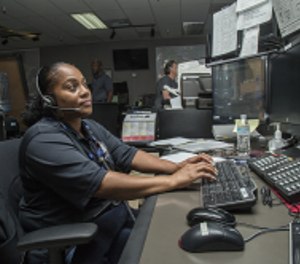 "911, what's your emergency?"
As Roberts listens to the caller's need, she begins typing information into a computer system that takes eight monitors to manage. Asking the caller questions about the location and type of call, she maneuvers her computer mouse to a screen dedicated to the radio frequencies for 20 different agencies.
After clicking on the correct radio frequencies, Roberts calls out, "Station One, standby for page. EMS stand by for page."
Roberts quickly gives Bartlesville Fire Department and Bartlesville Ambulance the address of the call and the symptoms of the caller's emergency.
"It's all in a day's work, and I couldn't imagine doing anything else," Roberts said after completing the call.
The week of April 14-April 20 is National Public Safety Telecommunicators Week, set aside to recognize those men and women who are the first line of defense and response for emergency agencies.
In Washington County, the dispatch center is located in a secure location at the Washington County Sheriff's Office in Bartlesville. It was built in 2012 and is equipped with four dispatch stations are set up to handle those emergency calls. The 15 dispatchers are actually employees of the city of Bartlesville, and they are contracted out to handle emergency 911 calls across the county.
Bartlesville Police Department's Rick Silver, the special assistant to the chief of police, oversees the dispatch center. Silver said just between Jan. 1 and March 31, dispatchers answered over 4,200 calls to 911 and more than 18,000 nonemergency calls.
"I've always told everybody my whole career that being a cop was what I wanted to do. To me that was the easy thing. I would never be a dispatcher," Silver said. "It takes a special kind of person to be able to do that job because it is very hectic sometimes. People don't realize the volume of calls that come in there."
Answering the nonemergency lines, 911 calls and handling radio traffic does take a very special person, Silver said. It takes someone who is a multitasker — someone who has the ability to gather information, give that information to the officers and responders in the field — all while remaining calm and professional during trying times.
"Our dispatchers are the first line of defense for not only the people calling in, but for the officers and others who are out handling the calls in person," Silver said.
The dispatch center has three different shifts, operating 24 hours per day, seven days a week.
Roberts has been a dispatcher for 20 years. She said she was in military service prior to joining the Bartlesville Police Department and has a love for law enforcement.
"I really want to be able to help people and each call is different," Roberts said. "The most challenging part would be some equipment issues. Everything is different, so going from one screen to another can be difficult."
A city of Bartlesville general obligation bond issue was passed to help pay for some upgrades to the dispatch system.
Even with the equipment issues, another dispatcher, Terri McCarty, said she wouldn't do anything else. She has been a dispatcher for 33 years. McCarty married a police officer and has family members who are or were formerly in law enforcement.
"It's either meant to be that you like this job, you like this kind of thing, or you don't," McCarty said. "If you can't multitask, you can't do this job. I had a friend who talked me into becoming a dispatcher, and once I got into it I was addicted right off the bat. ... It's just what we like to do — to help the community, and it makes you feel good that you are able to help somebody in their time of need. We are behind the scenes, and no one really knows who you are, but it just makes you feel good to go home at the end of the day and know that you helped somebody."
Washington County Undersheriff Jon Copeland said dispatchers are vital to helping deputies in the field.
"Dispatchers are the heroes behind the scenes, the unsung heroes," Copeland said. "They are the ones that are taking the initial information and letting deputies, EMS, fire, police officers know where they need to go. They gather quite a bit of information and check up on us when we are on a call.
"When it is a stressful situation for our field deputies, it is so reassuring to hear that voice come over the radio to see if we are okay and if we need any help. We know that help is always there."
Copeland said that steady voice over the radio means one thing.
"It's priceless. That's the best way to put it. We can't thank our dispatchers enough."
———
©2019 the Bartlesville Examiner-Enterprise (Bartlesville, Okla.)
McClatchy-Tribune News Service

Request product info from top EMS Communications companies
Thank You!