After 30 years in EMS, Harry Murphy is still a student
The La. medic has learned to bring his principles and ethics to work and shape a job around that, rather than letting the job shape him
---
In July of 1985, Harry Murphy was hanging out in Virginia Beach when a friend urged him to check out the EMS squad.
"Dave and I were truck drivers," says Murphy, now 51. "Dave was also a member of the Ocean Park Volunteer Rescue Squad. He suggested I do a ride-along with them just to get an idea of what was involved. I told him, nah, it's not something I'd ever want to do. So Dave said to just come down to headquarters for some barbecue or something."
"Something" turned out to be a head-on collision on the Chesapeake Bay Bridge-Tunnel, an 18-mile crossing between Virginia Beach and the state's eastern shore. Murphy hopped on a rig.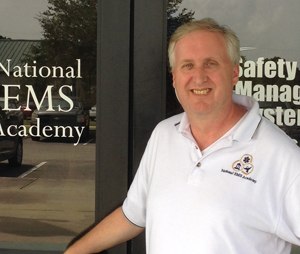 "We got to the scene – there was a fatality and several other patients," Murphy says. "I had no training. I started working with the guys out there because they needed all hands. I was basically a gofer.
"The dead body didn't bother me. After the call was over I realized, hey, I can do this."
Driving a different kind of truck
Murphy took a first-aid class and joined Ocean Park Rescue. By the end of 1986 he was an EMT.
"That meant I could drive the ambulance and be what Ocean Park called an 'attendant in charge.'"
EMT certification also meant Murphy could work in the field. He got his first EMS job in 1987 with "a little mom-and-pop ambulance service" in Tidewater. 
In 1992, one year before Med-Trans acquired his agency, Murphy became a paramedic.
"The company offered me a transfer to Evansville, Indiana as a field supervisor in 1996," he says. "I ran the night shift there for three years, but my wife and I didn't fit in real well in Evansville. It had nothing to do with work. We went back to Virginia Beach in '99, and I got a job as a medic right across the border in Currituck County, North Carolina."
Although Harry's career was moving forward, his marriage was not.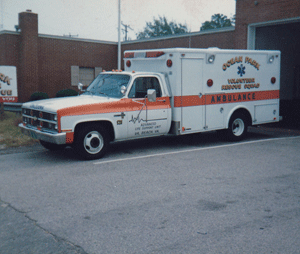 Murphy's 1986 ride.
New home, new life
The Murphys divorced in 2004. Harry says EMS wasn't to blame.
"My wife had been in EMS, too," he says. "She volunteered on and off at Virginia Beach, then became an LPN. We just grew apart.
"That was a time in my life when my job was defining me. I was wrapped up in trying to make a career for myself and trying to control all the things around me.
"I had some growing up to do."
After his divorce, Murphy began dating an EMT from Virginia. Soon they were a couple.
"We decided to move back to her hometown of Slidell, Louisiana," Murphy says. "We got married as soon as we settled in there.
"We were both hired by Acadian Ambulance in the Covington area, right across from New Orleans. I also started volunteering again at one of the local fire departments.
"Then we ran into a little bad weather."
A career-defining event
Hurricane Katrina made landfall over southeastern Louisiana on the morning of August 29, 2005. The western eye wall passed right over Pearl River, where Murphy was stationed.
"We were at a fire department about 10 miles inland on Lake Pontchartrain's northeast shore," Murphy says. "It was me, my wife and another crew, with two ambulances.
"Our trailer wasn't damaged – we had some elevation – but the Slidell station just a few miles south of us was flooded. The telephone lines were down and there was no cell service. We couldn't talk to headquarters for two-and-a-half days."
The communications outage was an even bigger problem for the population.
"The way the public would reach us is that they'd send someone to the fire station. Then we'd follow a fire truck to wherever the patient was, cutting our way through fallen trees, and see what we could do to help.
"There'd be people getting dehydrated trying to clear their property. We'd rehydrate them with IV fluid, tell them not to do that anymore, then leave them. The hospitals were crippled; we didn't want to transport too many patients.
"Sometimes I feel my entire career was about preparing for that storm and its aftermath."
Medic, heal thyself
After Katrina, Murphy and his second wife continued to ride as partners until she became a medic in 2008.
"We were forced onto different shifts," Harry says. "I was doing nights while she was doing days and vice versa. I definitely noticed a strain between us. It required a lot more active work on both our parts to plan time together."
That effort fell short. By 2010 the marriage was over. Once again, Murphy tried putting distance between himself and his problematic personal life. He joined the National EMS Academy, Acadian's training division, 150 miles away in Lafayette. It was there that he met Kara, a paramedic who had worked at Acadian's dispatch center for eight years, and had coincidentally handled many of Murphy's calls while he was still in Covington.
"She joked that I'd known her as a disembodied voice on the radio for two or three years," Murphy says. "We just kind of struck up a relationship."
Their relationship became much more; in 2012 they were married. Murphy says he still tries extra hard not to make the same mistakes he did in his earlier marriages.
"It's difficult to balance home life and the demands some EMS agencies put on you. I used to work 48 hours a week full time, 24 hours part time, then volunteer on top of that.
"I don't let my work define me anymore. I try to bring my principles and my ethics to work and shape the job around that, rather than have the job shape me and my lifestyle.
"I don't imagine there are too many people who lie on their deathbed and wish they'd spent more time working."
Student-teacher
These days you'll find Murphy more often in a classroom than on the streets. He's on the faculty of South Louisiana Community College's paramedic program while completing the final year of his Bachelor's degree in Public Safety Administration. And he's still happily married to Kara.
"Now that my personal life is finally working out, I've become a big advocate of education," says Murphy. "That's the route to professionalism. To become educated and share that knowledge with others is the highest calling."
Sounds like Harry has learned a lot.

Request product info from top EMS Communications companies
Thank You!