What EMS leaders need to know about bodycams (eBook)
Find out how body-worn camera video can boost patient care documentation, provider safety and more
---
Sponsored by Axon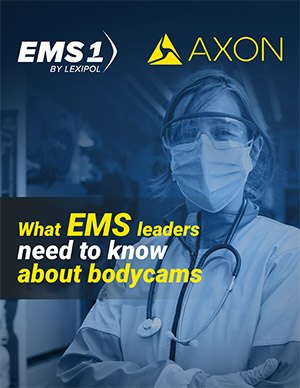 EMS agencies are beginning to recognize the potential benefits of body-worn cameras for emergency medical response. This technology offers significant advantages for patient documentation and telemedicine applications, as well as provider safety.
How can your agency benefit from a bodycam program?Download this free eBook to learn more about the potential uses and benefits of body-worn cameras in EMS and more:
Key considerations for EMS leaders when it comes to body-worn cameras.
Top 10 things to consider when buying body-worn cameras for medics.
How body-worn cameras can improve EMS documentation.
Find out how bodycams can benefit your EMS organization