PRESS RELEASE
EMS|MC Celebrates 25 year anniversary
---
Winston-Salem, N.C. -— EMS Management & Consultants, Inc. (EMS|MC), a leading EMS revenue cycle management firm focused on optimizing compliant revenue for EMS agencies across the nation, is celebrating 25 years of success.
Founded in 1996 in Clemmons, NC by a paramedic, EMS|MC has grown to more than 200 employees – now supporting over 260 clients in 24 states from their headquarters in Winston-Salem, North Carolina.
"Although there are many factors which have attributed to our success, underlying them is an unwavering commitment to collect the highest compliant collections for EMS Agencies across the country through innovative technologies and unmatched client care," said current Chief Executive Officer, Greg Carnes. "We look forward to the next 25 years as we solidify our position as the gold standard in EMS billing."
"I would like to thank our clients and our employees for their dedication to this industry. Our clients are true partners and our employees are the best in the business. I am so proud of what we've accomplished over the past 25 years and the way we are positioned to support our clients even more in the future."
About EMS|MC
EMS Management & Consultants is the largest national billing company in the U.S. dedicated solely to the EMS community. EMS|MC's services include EMS revenue cycle management, compliance, training, legislative advocacy and consulting services. Based in Winston-Salem, North Carolina, EMS|MC serves more than 260 clients across the United States. For more information, please visit www.emsbilling.com.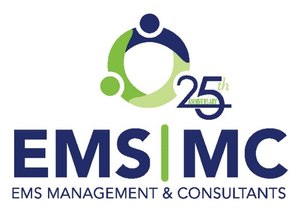 Contact information:

EMS Management & Consultants, Inc. (EMS|MC)
Chris Samia, Director of Marketing
336.397.3980
Chris.Samia@emsbilling.com

Request more info from EMS Management & Consultants, Inc.
Thank You!