PRESS RELEASE
5.11, Inc. Recognizes 11-year old nonprofit founder, Zechariah Cartledge as everyday hero
---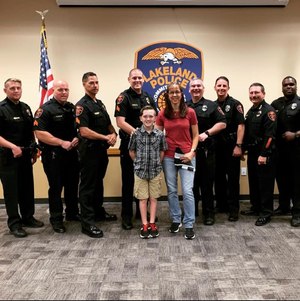 The company celebrates Cartledge's dedication to honoring fallen first responders
IRVINE, Calif. – 5.11, Inc., the global innovator of purpose-built apparel, footwear and gear, is proud to honor Zechariah Cartledge, 11-year-old founder of nonprofit organization Running 4 Heroes, as the latest addition to the brand's Everyday Hero program. The program, launched in 2019, recognizes civilian individuals who go above and beyond in their communities.
"The Everyday Hero program was created to celebrate compassion, heroism and humility in our communities – and Zechariah is a perfect representation," said Jennifer Glover, Vice President of Marketing for 5.11. "His commitment to recognizing first responders who have passed away is truly honorable – especially at such a young age. 5.11 is thrilled to recognize Zechariah's service to his community and we hope that our donation will help him continue to fulfill his mission."
Cartledge, a native of Winter Springs, Florida, founded Running 4 Heroes to raise awareness and funds for first responders who have fallen in the line of duty. Cartledge runs one mile for every first responder who has made the ultimate sacrifice, carrying an American flag which he then presents to the first responder's family. Donations to the organization help provide flags and additionally offer financial relief to injured first responders and their families.
About 5.11, Inc.
With offices around the globe, 5.11 works directly with end users to create purpose-built apparel, footwear and gear designed specifically to enhance the safety, accuracy, speed, and performance of tactical professionals and technical enthusiasts worldwide. 5.11 products exceed rigorous standards, which have allowed the brand to establish a reputation for innovation and authenticity, and become the premier choice for those who always have to be ready. 5.11 products can be purchased online, through authorized dealers and retailers, as well as at 5.11 company-owned retail stores. 
Learn more about 5.11's best-selling gear and accessories at www.511tactical.com. Find a full list of 5.11 company-owned retail stores at https://www.511tactical.com/locations/.  Connect with 5.11 on Facebook, Twitter @511Tactical and on Instagram @511Tactical and #511tactical. 5.11, Inc. is a subsidiary of Compass Diversified Holdings (NYSE: CODI). 5.11, 5.11 Tactical and Always Be Ready are registered trademarks of 5.11, Inc.  All rights reserved.