RedSky Emergency Vehicles to handle Braun Ambulance sales in California
---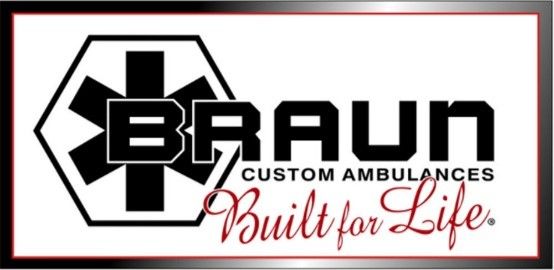 VAN WERT, OH — Braun Ambulances is proud to welcome RedSky Emergency Vehicles to the Braun family. Effective July 16, 2018, RedSky became an official dealer partner with Braun Industries. This partnership recognizes RedSky as the Authorized Sales and Service Center for Braun ambulances in the state of California.
"We are beyond excited to welcome RedSky Emergency Vehicles to the Braun family," said Chad Brown, Vice President of Sales & Marketing at Braun Industries. "RedSky is the first new dealer since our merger with Demers Ambulances in February 2018. RedSky has been a valued dealer partner with Demers for more than five years, so they were a natural fit for our open dealer territory in California now that we are two brands under one exceptional company. We are committed to growing the Braun ambulance brand on the West Coast and we believe RedSky is the perfect dealership to help us do it. We know their commitment in serving the fire and emergency community is in a class of its own and we look forward to working with them."
RedSky Emergency Vehicles is based in Rancho Cordova. The company was founded by Jim Featherstone and Kirsten Skyba in 2010. Both have a long history in the fire and emergency vehicles industry. Jim is a lifelong firefighter, EMT and fire chief. Kirsten has been in the industry since 1996 and has a true passion for serving the first responder community.  RedSky's Phoenix-location serves Arizona and Nevada customers.
"We're very proud to have been selected to represent Braun Industries, in addition to the Demers ambulance line.  Their product quality and professionalism are second to none.  Our team of industry professionals is looking forward to developing new relationships throughout California, promoting the advantages of Braun ambulances, and providing the type of responsive sales and service that first responders need and deserve," said Kirsten Skyba, VP – Operations & Customer Service at RedSky.  "[…] taking great care of our customers is our first priority and [we] are impressed with Braun's approach to that."
Through the new Braun partnership, RedSky can offer California customers a full line of ambulance products. The highly customizable Type I and Type III ambulances from Braun Industries join the Type I, Type II, and Type III models from Demers to allow RedSky to serve as a one-stop-shop for new ambulance sales. Each brand offers stand-out features and unique advantages combined with exceptional engineering and high-quality build processes.
The ambulance sales team at RedSky is staffed with knowledgeable representatives that have real-world experience in the Fire/EMS Industry. David Noe is RedSky's director of sales.  Josh Hollingsworth and Tom Walters report to David and handle new ambulance sales throughout California. All three gentlemen have personally served as first responders.
After the sale of a new ambulance, RedSky will provide service as a Braun Authorized Service Center from several locations throughout the state. They will help maintain and repair units throughout the ambulance lifecycle. Their service offering includes ASE certified technicians, the latest tools and equipment, and a wide selection of in-stock parts with the ability to ship same day/overnight.
If you'd like more information about RedSky Emergency Vehicles or their new partnership with Braun Ambulances, please call Chad Brown at 419-232-7054 or email ChadB@BraunAmbulances.com.
About Braun Industries and Demers Ambulances:
Braun Industries and Demers Ambulances merged in 2018 creating the second largest ambulance manufacturing organization in North America. Recognized for leadership in innovative design, quality product, and for their over 100-years of rich history serving the emergency response market in over 20 countries worldwide.  Demers and Braun offer ambulance models ranging from the price-conscience value ambulance to the very highly-customized speciality vehicle.
To learn more about how Demers Ambulances and Braun Industries can help you save more lives, visit www.Demers-Ambulances.com and www.BraunAmbulances.com

Request more info from Braun Industries, Inc.
Thank You!