Crestline donates ambulance play structure to Jim Pattison Children's Hospital
---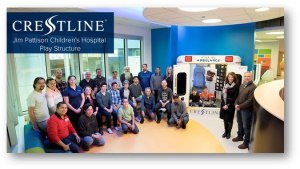 Saskatoon, Canada – Crestline Coach Ltd., a global leader in ambulance and specialty vehicle manufacturing and a Canadian supplier of small to mid-sized commercial buses, is thrilled to announce the donation of a custom-made Crestline ambulance play structure for the Child Life Zone at the new Jim Pattison Children's Hospital in Saskatchewan.
Jim Pattison Children's Hospital Foundation (JPCHF) first had the opportunity to work with Crestline on the construction of a new pediatric ambulance for the province of Saskatchewan back in 2016, through a partnership with Synergy 8 Community Builders and Sandra Schmirler Foundation.  When approached with the idea to replicate this ambulance in the new Child Life Zone, Crestline was excited and quickly enlisted a volunteer committee to custom-design and manufacture the ambulance play structure. 
"As an organization deeply rooted in Saskatchewan, we wanted to find a way to engage our employees because we knew this initiative was incredibly meaningful for our province and our local community" shared Richard Valenti, Vice President of Operations at Crestline Coach. He continued, "Our employees were eager to selflessly and passionately donate their personal time and talents towards a community project that will result in providing a little bit of happiness for sick children during their stay at the hospital."
Jim Pattison Children's Hospital Foundation shared that providing dramatic play opportunities is especially important in a hospital setting because it allows children to explore their feelings and thoughts about their experience. This helps children understand what has happened and/or can happen to them, and in turn helps to build their confidence and sense of control. It is important to constantly assess a patient's understanding of their experience, in order for them to build strong coping skills. Child Life Specialists work with patients to reflect the child's expressions back to them. The more information and knowledge children have about their world, the more coping skills they can build, making their hospital experience positive instead of scary or traumatic.

"We are grateful for Crestline's incredible generosity, as this impressive play structure is such an exciting element in the Child Life Zone," said Brynn Boback-Lane, President and CEO of Jim Pattison Children's Hospital Foundation. "Just as the pediatric ambulance cares for kids across the province, this replica will further educate children in hospital to become more familiar with medical transport and the equipment required. This is an added opportunity to replace fear of ambulance procedures with understanding through playful simulation."

The hospital opened to patients on Sept. 29, 2019. The ambulance play structure is located in the Child Life Zone, on the main floor of the hospital.

About Crestline Coach Ltd.:
Crestline Coach Ltd. is a global leader in ambulance and specialty vehicle manufacturing and a Canadian distributor of small to mid-sized buses. With safety, innovation and durability always at the forefront of their business, Crestline exceeds and inspires today's industry standards. To learn more about Crestline, visit crestlinecoach.com or follow current activity on Facebook, Twitter, LinkedIn or YouTube.

Request more info from Crestline Coach Ltd
Thank You!