Man steals ambulance, crashes into vehicle after high-speed police chase
A man driving an SUV was seriously injured when the ambulance crashed into his car
---
CARRINGTON, N.D. — A man stole an ambulance parked outside an hospital, starting a police chase that ended with a two-vehicle collision.
Timothy Blowers stole the ambulance as medics dropped off a patient inside Minot's Trinity Hospital, The Dickinson Press reported.
Police pursued the ambulance at speeds of over 90 mph. Blowers drove the ambulance against traffic to escape police, eventually hitting an SUV that was pulling onto the side of the road to avoid the ambulance.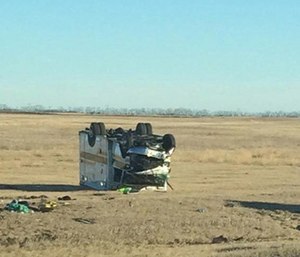 Cole Zaderaka, who was driving the SUV, was extricated and taken to the hospital in serious condition.
The ambulance overturned after the collision. Blowers exited the ambulance and ran off, but was captured by police.
The chase ended 120 miles away from the hospital where the ambulance was stolen, KXNews reported.