Hot new vehicles at EMS Expo 2010
New self-loading stretchers, Sprinter ambulances, and a few show stealers on display in Dallas
I had a great location with an island in the huge Bound Tree Medical booth, but it was still a pretty slow show this year. There was an exciting new industry trend revealed, however, with the big story at this year's EMS EXPO 2010 being the vehicles.
This year it was the year of the Sprinter Ambulance. At most big EMS conferences in the past you would see one or two. This was the first time I ever saw maybe six or seven different versions of Sprinter Type II Conversion under one roof.
All shared the core characteristics of the class. They have a smooth ride and highly responsive handling. They are both fuel and maintenance cost-misers. While being smallish in the back, the tradeoff is better efficiency and improved safety. They are engineered from the ground up to meet passenger car safety standards.
One Sprinter ambulance I really liked at EXPO was the clean and uncluttered looking conversion from Miller Coach. It has really smooth lines, and runs efficient LEDs in some smartly unexpected places. Around the wheel wells, tiny red LEDs add additional side visibility. The red LEDs on the front surface on each rear view mirror broaden your frontal profile, adding an additional margin of safety.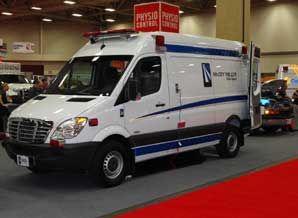 Photo courtesy Dan White
The McCoy Miller Sprinter ambulance on display in Dallas.
Everything in the back was clearly engineered to meet robust crash-worthiness standards. While I think I would prefer one forward facing attendant seat to the two they were featuring, you had to admire the ingenuity.
These chairs rotate from perpendicular to the cot to a forward facing position offering the utmost in convenience and safety. The oxygen storage has been transverse mounted to balance weight and lower the center of gravity, thereby optimizing ride and handling characteristics. Enhanced cot loading is accomplished with the installation of a self-storing hinged ramp that eliminates lifting.
AEV and Wheeled Coach also demonstrated sharp looking Sprinters, as did several others. If respected market-leading ambulance builders long known to the EMS community are going to all start converting Sprinters, I'm betting the field agencies will come. They just make so much sense.
Frankly, I've always thought much of the space inside a bigger ambulance was largely wasted. You can do most anything in a Sprinter you can do anywhere else, maybe even better due to the smoother ride.
But a couple of real show-stealers were the Avenger tank-like armored tactical vehicle on display and the TerraHawk mobile observation platform. The AVENGER Tactical Armored Transport has all the features you need in a hot situation and it is available with an optional rotating gun turret. When secure firepower is required, the Avenger Tactical Armored Transport answers the call with maximum threat protection. Avenger provides secure transportation for 10-12 tactical responders, and it is available in NIJ Level III/B6 to NIJ Level IV/B7.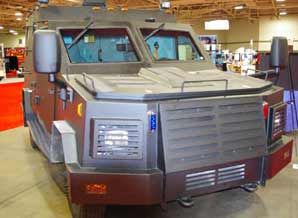 Photo courtesy Dan White
The AVENGER Tactical Armored Transport has all the features you need in a hot situation.
It looks like just the thing you need to evacuate the wounded during a large-scale tactical emergency or during a time of major civil unrest. But I sure hope it's mainly just a battlefield thing, and we don't see it showing up on American streets anytime soon.
The TerraHawk is an unobtrusive looking regular full sized van, until you hit the switch. Then a mobile observation post rises up 25 feet into the air, complete with heat, air, lights, and radio. Wow, if only my deer hunting buddies back home could see this. Paint it camo and rent it out for $500 a weekend.
On the clinical side there were few new EMS products, with a couple of notable exceptions. The new Backboard Buoyancy Compensator (BBC) from R&B Fabrications is a very clever idea. It's an addition to a standard plastic backboard that turns it into a real decent flotation device. This sweet part is it's very compactly stored and quickly deployed. I see this product being a big hit with all kinds of water rescue professionals. A good plastic spine board needs to be somewhat buoyant, but not too much too soon.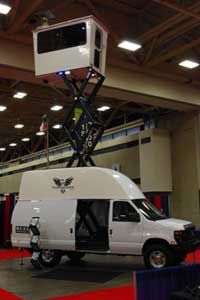 Photo courtesy Dan White
The TerraHawk on display at EMS Expo in Dallas.
The reality is you need it to easily slide up underneath during a rescue. You can then quickly inflate the collar and turn the board into a floating platform. It would solve the problems inherent in most advanced water rescue platforms, mainly which cost a lot of money and take up a lot of room. This BBC works with what you already have to create a whole new capability.
The other really exciting product I saw at EMS EXPO 2010 was a prototype self-loading stretcher from Ferno. The Mondial combines two essential products into one. The top portion is a full portable stretcher, and I'm told it could conceivably have two wheels and be used as a stair-chair also. The Mondial is European and it takes a whole different approach to patient handling. It's light, fast, and works a lot like a US H-Frame self-loader, aka FW 93 or FW29M, except for one big twist.
You don't have to actuate anything to load it. Nothing — you just gently press the front legs of the stretcher against the back end and it smoothly loads. Not having to worry about complicated controls and shifting grips means your full attention is on your patient. Being focused on loading, not operating complex mechanics makes intuitive sense. I've also never handled any cot as light as the basic platform of the Mondial. I could see city-medics getting emotional about it. Like pry-it-out-of-my-cold-dead-lifeless-hands kind of emotional.
They could take the system in the front door, and use the portable upstairs if need be. Power cots are really nice, but the weight penalty is substantial. The Mondial is a completely fresh approach from across the pond that saves weight and integrates essential elements together for the first time. I hope we see more of it here in the USA soon.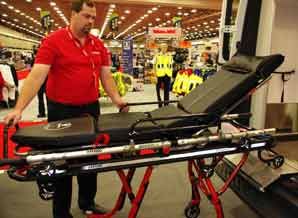 Photo courtesy Dan White
The Mondial takes a whole different approach to patient handling.
For me this year's EMS EXPO 2010 was a bit anticlimactic. I had hoped to see more people in the exhibit hall. The first day started out great and stayed great until about 2PM, and then everyone suddenly disappeared. The second day went dead shortly after lunch with fewer people seen in general. The third day was a graveyard, with vendors resorting to selling each other stuff. At least it gave me a chance to take a look at the other exhibits.
I think the Dallas location hurt EXPO this year. Texas is really a separate country for all practical purposes. I guess they are more likely to support their home-grown show, the Texas EMS Conference in Austin before Thanksgiving. Las Vegas as the location for next year's EXPO is bound to be a better show, since everyone loves going to Las Vegas. I can't wait because for me EMS EXPO is the crowning glory of the show season. I'd like to see EMS EXPO, now EMS WORLD back and better than ever.