Ambulance transporting 7-month-old collides with car
The baby and her mother were taken to a hospital for treatment
---
By EMS1 Staff
DELMONT, Pa. — Four people were injured after an ambulance and car collided Monday morning.
CBS Pittsburgh reported that the John Carroll Area EMS ambulance appeared to have crashed into the side of a car. The driver of the car was taken to a hospital in critical condition; there were four people on board the ambulance.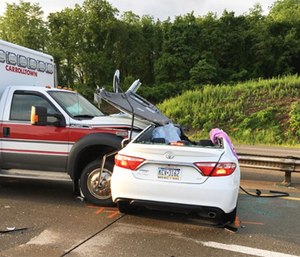 "We had an update from the ambulance crew that was involved that there was entrapment in one of the vehicles," Fire Chief Bob Rosatti, with Forbes Road Volunteer Fire Department, said. "The fire department that got on scene extricated one patient out of the vehicle."
The ambulance was transporting a 7-month-old baby at the time of the collision; the baby and her mother were taken to a hospital for treatment. A paramedic was also taken to the hospital and an EMT refused treatment.
The cause of the crash is under investigation; officials said the ambulance was not speeding at the time of the collision.