Nev. city to begin AED drone delivery service
Beginning in 2020, Flirtey, a drone delivery service, will begin sending AEDs to cardiac arrest victims identified by 911 dispatchers
---
By News Staff
RENO, Nev. — A local drone company has received approval to begin delivery of AEDs.
ABC 8 reported that Flirtey, a drone delivery service, was authorized by the Federal Aviation Administration to conduct delivery flights beyond visual line of sight (BVLOS), paving the way for the company to deliver AEDs to individuals suffering from cardiac arrest.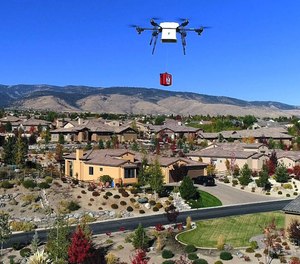 When a 911 dispatcher is alerted to a cardiac arrest victim, in addition to sending an ambulance, they will also provide instructions for using a defibrillator delivered by a drone to allow emergency action to be taken faster than paramedics can arrive.
"Flirtey's industry-leading technology is now approved for drone delivery beyond visual line of sight, a major milestone that brings life-saving and commercial drone delivery another step closer to your doorstep," Flirtey Founder and CEO Matthew Sweeny said.
The service goes live in 2020 and will serve the Reno-Sparks-Carson City area. The City of  Reno is part of the FAA's Unmanned Aircraft Systems Integration Pilot Program (IPP), one of only 10 selected governments nationwide.
"The city of Reno is proud to partner with Flirtey, the FAA and our local IPP partners to enable drone delivery of AEDs to Washoe County residents," Reno Mayor Hillary Schieve said. "Public safety is our top priority and the use of drones to provide life-saving AED technology to cardiac patients will save lives across our community."
Based on statistics for the area, one drone-delivered AED could potentially save one additional life every two weeks.

Request product info from top AEDs companies
Thank You!