NEMSMA announces new president-elect
Brian LaCroix has served as a volunteer firefighter, EMT, paramedic and educator
---
By EMS1 Staff
PLATTE CITY, Mo. — The National EMS Management Association announced its president-elect for 2017.
The NEMSMA board of directors announced Oct. 21 Brian LaCroix will serve as the association's president, beginning Jan. 1, 2017. LaCroix will serve a total of six years; two years as president-elect, two years as president and two years as immediate past president.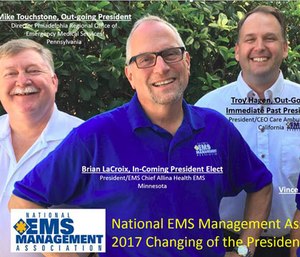 LaCroix has been an active member of the board of directors for the past four years while serving as a chairperson on the membership committee and liaison to the Paramedic Chiefs of Canada. He is the president and EMS chief for Allina Health EMS in St. Paul, Minn. Allina EMS serves over 1 million residents and provides 911 services to over 120 communities.
Over the course of his career, LaCroix has served as a volunteer firefighter, EMT, paramedic, educator, author peer counselor, manager and executive officer. He has presented at numerous conferences and has been involved with state EMS development in Wisconsin and Minnesota.