Ill. city falls 1 vote short of licensing second ambulance service
The decision was contrary to the recommendation of an independent public hearing officer, who said the city had a "reasonable need" for another service
---
By Tom Lisi
Herald & Review
DECATUR, Ill. — Leaders of Champaign-based Arrow Ambulance say they're going to regroup and assess what action they can take after the Decatur City Council on Monday fell one vote short of allowing the company to become the city's second licensed ambulance provider.
The decision was contrary to the recommendation of an independent public hearing officer, who said in a report that the city had a "reasonable need" for another service beyond its longtime sole provider, Decatur Ambulance Service.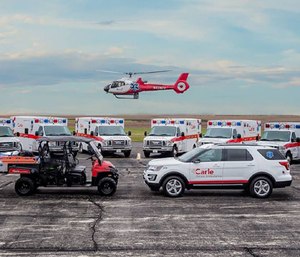 "We understand the council had a very difficult decision to make tonight," said Larry Sapp, director of Arrow Ambulance, after the vote. "We want to take the opportunity to discuss with our partners here in Decatur on what we'd like to do next and then we'll be making decisions based on that."
Sapp declined to comment on whether Arrow would pursue litigation.
The close vote came in part because Mayor Julie Moore Wolfe and Councilman Chuck Kuhle recused themselves from the decision, citing conflicts of interest. Two others, Pat McDaniel and Bill Faber, voted against the measure. Council members Dana Ray, Lisa Gregory and David Horn voted in favor of the license, but four "yes" votes were required for the motion to pass.
The vote marks the final decision in a fever pitched battle between Decatur's two hospitals, which are on opposite sides of the issue — a fact that several council members mentioned in explaining their decision.
"What has been most challenging for me is the two leading healthcare organizations in Decatur have come to completely different conclusions about the impact an additional ambulance company will have on Decatur and its 72,000 citizens," Horn said. " ... The best entities to resolve this matter are the very entities at odds and personally I find this extremely disheartening."
Decatur Memorial Hospital has backed the application of Arrow, which is affiliated with Carle Foundation Hospital. Officials at HSHS St. Mary's Hospital, which purchased Decatur Ambulance Service in June, opposed licensing another provider. They said the city's needs are already met by the existing ambulance service, which was the only company operating in Decatur for decades.
DMH officials have acknowledged that they sought an ambulance company partner after St. Mary's bought Decatur Ambulance Service, but also said they have seen a need for years to have more ambulances running in the city. Arrow filed its application with city officials in July.
"We're disappointed in the results of the findings of the council," said DMH spokeswoman Anne Davis after the vote.
In his remarks before the vote, Faber said many residents see the introduction of another ambulance service as a fight between the two hospitals.
"This dispute wounds the very soul of our community," he said, "and our citizens do not want a fight between these most vital institutions of our town."
The split vote reflected, in part, a differing view of the council's role in the process to license ambulance companies. Gregory, Ray and Horn argued that the vote was unusual in that the council, a legislative body of elected officials, had to take on a "quasi-judicial" role dictated by city code.
"I did not want to put the city of Decatur in a position that would trigger legal action," Gregory said. "This decision is predicated on three criteria outlined in the ordinance: Whether or not the public is at the time reasonably and adequately served, whether or not convenience or necessity required the proposed service, (and) whether or not the proposed service complies with (the code)."
Faber eschewed that argument and based his decision in part on public opinion. "Our citizens do not want this fight between these two most vital institutions of our town," he said. "The introduction of a second ambulance license presents a significant risk of disruption of service for dispatch and response of emergency service."
Officials from St. Mary's and Decatur Ambulance Service said they were pleased with the result and that they had plans to address some of the concerns with service.
"We actually signed a contract with the (Teamster's Union) around staffing a sixth rig," said Michelle Clatfelter, vice president of legal service of HSHS' Central Illinois Division. "We are working with Crossing Healthcare to place another right at their site to continue to service the inner city."
Clatfelter added that St. Mary's officials will continue to reach out to DMH to find a solution to their testimony in public hearings that the hospital was experiencing long waits for patients being transferred from DMH to another care facility.
The vote comes a week after city officials released the second and final findings of its independent public hearing officer, who again recommended the city to allow for Arrow to operate in Decatur.
"It is not possible to know with any certainty the effect (on patient care) of adding, or not adding (Arrow Ambulance) as a provider," Hearing Officer Steven Mahrt wrote in the report. But "the most important factor in patient care is an adequate first response time. Placing more responders in the community will result in quicker response times."
At the core of the debate were two issues: Whether the city's residents were "reasonably and adequately" served by Decatur Ambulance Service and whether claims from DMH officials — that there were not enough ambulances in the area to move critically-injured patients to other facilities quickly — demonstrated a need for another ambulance company to move into the city's emergency response system.
Mahrt's findings sided with the testimony of DMH and Arrow officials — that transfer times from hospitals to other facilities did fall within the scope of the city's ambulance license.
In other action, city staff presented a proposed city budget for 2019 that officials said would not include an increase in property taxes.
The budget calls for a $68 million general fund, the main bank account of the city that pays for general operations. That's almost identical to the proposed amount a year ago.
But with rising costs, Interim City Manager Billy Tyus said the city would have to hold the line on staffing levels for another year — carrying out the same level of services with 27 fewer full-time employees than in 2017.
The proposal comes as city council members directed Tyus not to increase property taxes and not to cut services.
"There are some changes that are going to have to happen going forward in order to not be in this position next year," Tyus said. "(It's) the same conversation we had last year."
Copyright 2018 Herald & Review
McClatchy-Tribune News Service