Severely injured paramedic who was hit by car walks again
After four months in the hospital, 15 surgeries and an amputated leg, Rory Barros is using a walker to walk again
---
By EMS1 Staff
WACO, Texas — A paramedic who was in the hospital for over four months after being severely injured by a car is using a walker to walk again.
KWTX reported that East Texas Medical Center paramedic Rory Barros is walking again after enduring 15 surgeries and having his leg amputated.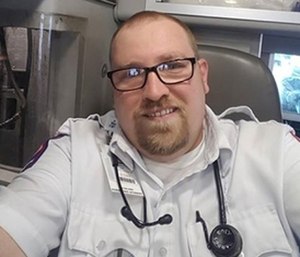 Barros was pinned against his ambulance after being hit by a drunk driver at the scene of a crash and has been in the hospital for more than four months.
The paramedic has been home since Christmas, but was confined to a wheelchair until his therapist stood him up with a walker. Soon after, Barros was moving freely around his home.
Barros hopes to return to work sometime this year.