Ambulance transport safety standards a 'disgrace,' EMS Expo told
EMS Expo session told the U.S has more safety standards in place for the transport of cattle
---
By Jamie Thompson
EMS1 Senior Editor
DALLAS — The United States has more safety standards in place for the transport of cattle on a truck than it does for crew members in the back of an ambulance, a session at EMS Expo in Dallas was told Wednesday.
"To me this is a national disgrace and inexcusable," Jim Swartz, CEO of North Texas-based medical transport company CareFlite, told the audience.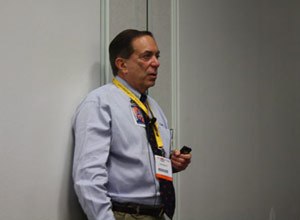 Swartz said a range of measures are needed to halt the alarming death rate of EMTs and paramedics in ambulances that are involved in crashes.
Agency managers need to be proactive in improving response safety, he said, because so few regulations exist.
"A ground ambulance without a road safety system of immediate driver feedback and data reporting means there is really no accountability for the safe operation of the vehicle," Swartz said.
The session was told EMS faces a range of challenges in improving ambulance safety, with progress requiring overcoming cultural, manufacturing and regulatory resistance.
"Our ambulances are not emergency departments and they are not intensive care units," Swartz said. "If I am standing up over a patient, and the truck comes to an immediate stop, I don't stop until I hit the metal and anything not tied down can become a projectile and hit me. This is not a crash-worthy environment."
The session was told transport safety also comes down to the person driving the ambulance, which according to Swartz, is generally the youngest, lowest paid and least experienced member of the team.
National EMS data shows there are about 50,000 vehicles involved in 5,000 crashes every year, the session was told. One fatality happens on average every 10 days, two-thirds of which are pedestrians or occupants of the other vehicle.
Swartz also outlined statistics such as 74 percent of EMT occupational fatalities are MVC related.
Measures that have been proven to reduce the risks, Swartz said, include:
Vehicle operations safety policies
Squad bench lap seat belts
Patient over the shoulder harnesses
Securing equipment
Forward and rear facing seating
Some electronic technical devices
Safety awareness
"It is no longer acceptable for EMS to be functioning outside of automotive safety and PPE safety standards for prevention of and protection of EMS providers and the public from injury and death," Swartz said.