Now is the age of EMS: It is time to revolutionize our practice
Advances in prehospital treatments and community paramedicine require a new paradigm of training and education for EMS
---
By David K. Tan, M.D.
Growing up, one of my favorite TV shows was "Emergency!" I suspect many of our readers with a few grey hairs share my fond memories of watching Johnny and Roy gallantly saving lives every week while receiving sage advice from Dr. Brackett and Dr. Early when they brought patients to Rampart ER.
It is fascinating to watch the portrayal of the early paramedics and what was necessary to become the first physician surrogates during the birth of EMS. Training was a few weeks long, online medical control was required to defibrillate VF patients, every IV started in the field required permission as well as a 24-hour follow-up report, and an EOA was considered their advanced airway.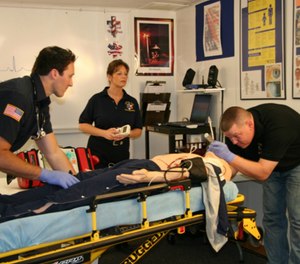 Fast forward to today, and look at how times have changed! We now expect paramedics to interpret Sgarbossa's criteria on a 12-lead EKG and – in some locales – initiate thrombolytic therapy for it, perform surgical crics, calculate cardioactive pharmaceutical drip rates and engage in community paramedicine as part of the continuum of medical care.
EMS no longer merely brings patients to healthcare. EMS is healthcare. We continually pile more and more expectations onto EMTs as well as paramedics, yet we still treat the profession as a vocational tech skill as opposed to a practice of medicine.
Paramedicine is not skilled labor. It is a medical practice deserving of the requisite training and education worthy of the trust that citizens place in our abilities and – more importantly – our aptitude for decision making and critical thinking. Such capabilities require an entirely new paradigm in EMS education, yet if anyone dares mention that paramedic licensure should be via a college degree pathway instead of a "certificate," prepare for an onslaught of naysayers! 
Personal relationships with medical director improve patient care
Something else that struck me about Johnny and Roy is that they had a personal relationship with their medical control physicians. Dr. Brackett did not abrogate his responsibility to teach and mentor his medics to a staff member. He spent time with them, taught them his approach to patient assessment, gave feedback to the crew, and imparted his sense of the sacred trust between a caregiver and the patient.
Merely by the tone of their voice over the radio, either party instinctively knew if something was awry or if a patient was going to be particularly ill or a situation particularly difficult. EMS physicians must find time to break away from the desk and jump on the box or the apparatus, respond unannounced on scenes as a resource and teacher, and spend time in the classroom imparting knowledge impossible to glean from books. 
As such, EMS agencies must recognize that EMS, as a practice of medicine, requires a compensated physician, ideally board-certified in EMS medicine, with the requisite time and infrastructure to realize the new reality of this unique practice of medicine. Government, from local to state, must support medical oversight including having a functional state EMS office and a state EMS medical director. 
Now is the most exciting time to be an EMS provider in the age of mobile integrated healthcare, recognition by the proverbial house of medicine as a bona fide subspecialty, and the growth of evidence-based protocols and practice where EMS can actually influence hospital policy.
It is a quantum leap from where Johnny and Roy started, and we now must begin treating this new frontier with a new vision by demanding more from ourselves and each other. 
This article originally posted on Nov. 21, 2016. It has been updated.
About the author
David K. Tan, M.D., EMT-T, FAEMS, is associate professor and chief of EMS in the division of emergency medicine at Washington University School of Medicine in St. Louis. He is double board-certified in Emergency Medicine and EMS Medicine by the American Board of Emergency Medicine. Dr. Tan remains very active in EMS at the local, state and national levels as an operational medical director for local police, fire and EMS agencies. He is chairman of the Metropolitan St. Louis Emergency Transport Oversight Commission, vice-chairman of the Missouri State Advisory Council on EMS, and president of the National Association of EMS Physicians. Dr. Tan is a member of the EMS1 Editorial Advisory Board. He also provides medical direction to EMS1.com and the EMS1 Academy.