New method to treat brain injuries could save thousands of lives a year
Those with severe brain injuries who were treated with the new protocol before they reached the hospital survived at twice the rate of those who didn't get this new treatment
---
Patty Machelor
The Arizona Daily Star, Tucson
TUCSON — People with severe brain injuries could be saved at double or triple the rate of previous patients if medical responders know a new method developed by University of Arizona researchers, state health workers and paramedics.
Results of the UA-led Excellence in Prehospital Injury Care project, or EPIC, were announced Wednesday and included 21,000 patients with different kinds of brain trauma.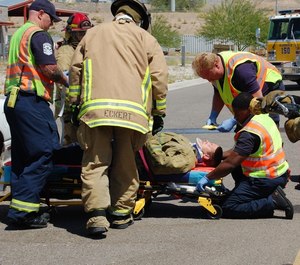 Those with severe brain injuries who were treated with the new protocol before they reached the hospital survived at twice the rate of those who didn't get this new treatment.
Patients who were also intubated survived at triple the rate of previous patients, according to information provided by the UA. Intubation involves placing a flexible plastic tube in the windpipe to keep airways open.
The findings could save thousands of lives annually, said Dr. Dan Spaite, a UA professor and the Virginia Piper Distinguished Chair of Emergency Medicine at the university. Spaite was the lead author on the study.
More than 11,000 Arizona paramedics and emergency medical technicians, or EMTs, have been trained to use the method since 2012.
Among them was a Peoria mother who saved her 8-month-old son about six years ago.
By using her EPIC training, Alex Matthews focused on preventing what the researchers call the "Three H-bombs" — hyperventilation, hypoxia and hypotension, or, in everyday language, rapid breathing, oxygen deprivation and low blood pressure.
Matthews' son was injured when their car was hit by a truck and then hit two more times after spinning into oncoming traffic. Her baby was not breathing when he was pulled from the car and had no pulse, but also was not bleeding, according to the UA.
It wasn't until she opened his eyes and saw his pupils were different, changing sizes — and also noticed blood coming from his nose — that she knew he had a traumatic brain injury.
She acted quickly, and also guided other paramedics, and that saved her son's life.
Prior to EPIC, paramedics were taught to make people with a traumatic brain injury hyperventilate, the UA reports. They would do this by squeezing air into the lungs quickly and deeply to, they were taught, reduce potentially deadly pressure in the brain. However, the new research shows that while hyperventilation lowers that pressure, it also deprives the brain of blood and oxygen.
First responders using EPIC now also get a high flow of oxygen on patients as soon as possible to prevent oxygen deprivation and, lastly, use an IV drip to prevent low blood pressure.
UA medical researchers partnered with the state's Department of Health Services and more than 130 Arizona fire departments and emergency medical service agencies on this project.
"Partnerships like this one are such an important way for the UA to serve Arizona and advance medicine worldwide," said the university's president, Robert C. Robbins, in a news release.
Funding for the research was provided by a $3.6 million grant from the National Institute of Neurological Disorders and Stroke, which is part of the National Institutes of Health.
"A (traumatic brain injury) initiative of this scale has never been attempted by prehospital providers," said Dr. Ben Bobrow, a UA professor of emergency medicine and co-author on the study, which was published Wednesday in JAMA Surgery: The Journal of the American Medical Association.
It's not the first time the UA has pioneered this type of medical innovation.
It's been about 15 years since the university pushed for the implementation of compression-only cardiopulmonary resuscitation, a much simpler method of helping a patient who is not breathing survive until help arrives.
———
©2019 The Arizona Daily Star (Tucson, Ariz.)
Distributed by Tribune Content Agency, LLC.
Association of Statewide Implementation of the Prehospital Traumatic Brain Injury Treatment Guidelines With... by Ed Praetorian on Scribd
McClatchy-Tribune News Service