Georgia's only collegiate EMS agency abruptly shuts down
Emory Emergency Medical Service managers and members say they were given no prior warning that the program would be ending
---
By Laura French
ATLANTA — Georgia's only collegiate EMS agency shut down abruptly this month following an approximately one-year pause due to COVID-19. 
The Emory Emergency Medical Service (EEMS) at Emory University in Atlanta, which was staffed with student volunteers and responded to calls on campus during the academic year, was temporarily put on hold last spring with DeKalb County Fire Rescue and AMR taking over calls at the university, according to The Emory Wheel. Although the program was expected to resume operations in the fall, EEMS members learned via email on April 1 that the program would be ending.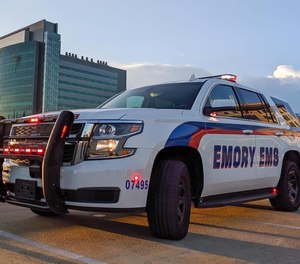 "We did not reach this decision lightly. For nearly 30 years, EEMS (originally the Emory First Responder Unit or EFRU) has been Georgia's only collegiate first responder program, with many volunteers going on to pursue successful careers in healthcare," the Emory Police Department (EPD), which ran the program, said in a statement. "Last year brought unprecedented change to our community and our country. EPD has been focused on redefining what it means to serve, protect, and lead by example -- creating a safe and inclusive campus for everyone." 
EEMS members, including the program's full-time managers and command staff, said they were given no prior warning that the program would be shutting down. 
"The decision caught the EEMS staff as off-guard as it caught the community and alumni," EEMS Chief Ariana Jackson told The Emory Wheel. "Since the announcement, Command Staff has not been given specific, identifiable reasons from anyone in the department on why the decision was made." 
EEMS responded to an average of 800 to 1,000 calls on average each academic year, according to Jackson. EPD said AMR and DeKalb County Fire Rescue will continue to provide coverage on campus going forward. 
EPD Chief Rus Drew also told The Emory Wheel that the department is looking into finding a "new home" for the program and that the EPD is maintaining EEMS records, equipment and vehicles for a "potential transfer" in the future.
On April 8, the EEMS Facebook page asked community members to sign a support statement for the continuation of on-campus EMS operations.