Clinical scenario: A fight at a college football game
You are dispatched to stage for police responding to reports of a fight in the parking lot of the local university
---
Medic 4, Engine 7, respond and stage at the corner of University and Main. Police are en route for a report of tailgaters fighting in the parking lot of the stadium.
You arrive at the staging location and meet with the other responding unit. It is late in the afternoon and the captain from the engine company tells you that fans have been tailgating before the big game since mid-morning.
According to traffic on the police frequency, there are approximately 20 individuals involved in an altercation which began after someone threw a bottle.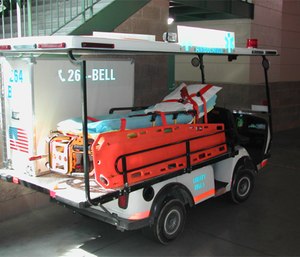 Police officers report that they broke up the fight and have several suspects in custody. They advise that there are approximately a dozen people injured, one seriously. As your units respond, consider the following questions:
What are some immediate concerns as you approach the scene?
What information should you provide to dispatch once you arrive?
What should you be aware of when directing your partner to a parking location?
If you need additional transport resources, what updates should you give them?
Post your answers in the comments and view the solution for this scenario.