Ohio medics are partners on and off the job
Eighty-two combined years of EMS service and no end in sight for two medics focused on always being their best
---
Ask Susie Emmert and Doug Glass, paramedic partners at Athens County EMS, about working 24-hour shifts at Station 55, and they'll tell you it's not exactly the busiest district in rural Ohio.
"The 'vacation station' is what they call it," says Glass, 64, who grew up with Emmert in nearby Jackson County, attended the region's first EMT course and was hired by Southeast Ohio EMS (SEOEMS) in 1973.
"It just started out as something to do," Glass says. "I wasn't expecting to actually work in the field."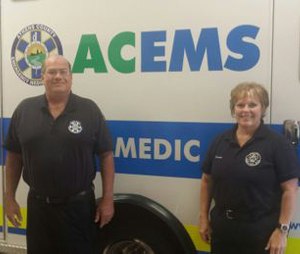 Meanwhile Emmert, who had met Glass when she was in high school, and graduated four years behind him, wasn't quite sure about her own next steps.
"I was working as a cashier and getting my cosmetology license," she says, "but when I'd see the (rescue) squad go up and down the road, I'd think, 'Hey, I'd like to do that.' So I became an EMT in '75 and joined Doug at SEOEMS (pronounced seems)."
A calming presence
By 1977 Emmert and Glass were paramedics. Emmert spent most of the next eight years as a dispatcher – an occupation she feels has its own skill set.
"They teach you the different algorithms to go through, but sometimes you need to think outside the box," the 60-year-old says.
"When the phone rings, you never know what you're going to hear – could be somebody screaming. You can't feed into their excitement. You have to project calm and stay in control of the call. Once you lose control, it's done."
Emmert, who continued to ride part time while she was dispatching, had already discovered the value of calm and control on the streets.
"I was a new EMT on a maternity call in '75," she says. "It was a breech birth, with the whole body except the head sticking out. I'd only ever seen that in a textbook. The baby was dead. All I could do was offer moral support to the mother.
"You hear about medics having PTSD after calls like that, but I never felt that way. You have to leave it behind when you go home. Don't let it eat up your life."
Humor: the sixth sense
Emmert says it helps to appreciate the lighter side of EMS.
"There was this regular patient we had who used to fake passing out," she recalls. "SEOEMS chief Hollingshead and I found her that way on a church bus full of people. They were carrying on and shouting, 'Lord, help this woman!' We kept telling the preacher to move them back so we could get in and check her out.
"We managed to get one of those old manual-lift cots through the aisle and loaded her on it. Then the preacher told her son, who was only 5 or 6 years old, to go tell his dad we were taking mommy to the hospital.
"We wheeled the patient to the back of the bus and were just about to lift her out when that little boy came back, tugged on the preacher's pants leg, and said, 'Mister, I told my daddy, and he said, 'I don't give a good goddam what happens to her.' Well, we just lost it."
Blending genders
When SEOEMS folded in 2011, Emmert and Glass switched to Athens County. They still work together there every third day, and also at Jackson County EMS, but their relationship has been much more than that.
"We became a couple in 1980," Emmert says. "We didn't get married, but we lived together and raised our two daughters."
The two medics discovered that male-female partnerships have advantages in the field.
"Putting one of each on the truck works well," says Emmert. "Some patients are just more comfortable that way."
"I think women do a better job because they're more compassionate," Glass offers. "They tend to take better care of patients."
So who's in charge when Susie and Doug share a rig?
"I'm supposed to be, but I don't know that it works like that," says Glass.
Emmert summarizes it this way: "We've ridden together so long, we pretty much know what each other's going to do. If I miss something, he can say, 'Well, don't you think you ought to do such and such?' I tell him what's what, too, but I don't look at it as one or the other being in charge."
Shared values, shared lives
With 82 years of EMS experience between them, Emmert and Glass are entitled to a few opinions about the state of the industry.
"Everybody wants to be a hero," says Glass, "but there are none in this business."
"Some of these new people, they shouldn't even be in EMS. They just whine and complain. They should focus on coming to work, doing their jobs and going home."
Emmert agrees EMS is more about competence than heroics.
"It's exciting when you first get into it – I remember feeling that way – but you have to keep it real. Don't do it for the lights and sirens and don't do it 24/7. Just concentrate on being the best you can be when it's your turn.
"When I was a dispatcher, I trained this guy who was a volunteer fireman. He was so gung ho, he would have worn lights and sirens on his head if he could have. He said, 'When you leave here, I bet you go home, listen to the scanner and jump calls.' I told him, 'No, when I walk out this door at four o'clock, I'm done until I come in the next morning.'"
Although Susie and Doug are no longer a couple, their partnership remains strong inside and outside EMS.
"We split up in 2002," says Emmert, "but we've stayed friendly and continued to work together. Doug never misses a holiday dinner with the kids at my house.
"Maybe our personal lives didn't work out the way some people think it should, but I know he'd do anything to help me, and I'd do the same for him."