NAEMT advocacy goes big for EMS providers
NAEMT members on the frontline of the COVID-19 response will be able to book free rooms in Hilton Hotels
---
NAEMT announced a partnership with Hilton and American Express to provide hotel rooms to frontline medical professionals in the U.S. during the COVID-19 pandemic. NAEMT members, starting April 13, will be able to book up to seven nights in a Hilton hotel with the option to book additional nights.
"Bringing COVID-19 home" is one of the top concerns of EMS providers around the U.S. as they increasingly are responding to or preparing for patients with or suspected to have COVID-19. This partnership gives EMS providers, as well as other healthcare providers, a safe place to stay as they respond to those impacted by COVID-19. Most importantly EMS providers don't have to worry about exposing their family or running up a bill beyond their means by staying at a hotel.
I was able to reach Matt Zavadsky, NAEMT president, by email for more information on this impressive partnership with Hilton and AMEX. He commented: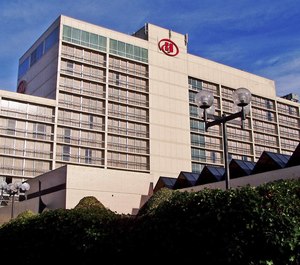 "Since the beginning of this pandemic, EMTs and paramedics have been serving on the frontlines, on the 'tip of the spear.' So far, we've received very little support from either federal or state agencies. We are so pleased to see the private sector step in to help those who are braving this public health emergency with a servant's heart. Hilton and American Express heard our call for help and responded with this very generous donation of free hotel rooms. This is exactly the kind of support EMS practitioners need to help get through this crisis."
NAEMT members will receive more information in the days ahead on how to book a room. More program information is also available here.
Advocating for EMS COVID-19 needs
NAEMT's service to its members is more than finding hotel rooms. In the past two months, NAEMT staff, members and lobbying partners have been active in ensuring the needs and concerns of EMS are heard on capitol hill. EMS providers and friends of EMS have used the NAEMT Online Legislative Service to send thousands of messages to our elected officials. Go there now to call on Congress to directly support EMS during the COVID-19 pandemic.
Representing the needs of EMS, including partnering with the American Ambulance Association and the International Association of Fire Chiefs at this time of great need is only possible through years and years of relationship building, strengthening the infrastructure of the organization, and understanding the needs of field providers.
NAEMT has gotten here by doing the work
Partnerships with multinational corporations and meetings on capitol hill don't happen all of a sudden. They are the result of investing time and resources to grow membership and improve access through training, recognition and events. The annual EMS on the Hill Day brings EMS providers to Washington to meet face-to-face with elected officials about the most pressing issues facing EMS. The NAEMT awards programs, held each year at EMS World, recognize outstanding contributions to the profession by ALS and BLS providers, military medics, educators, medical directors and volunteer and career services.
NAEMT has significantly increased its training courses with several important additions, reflecting the evolving needs of field providers and the dynamic conditions of the prehospital care environment. In addition to the well-known PHTLS and Tactical Emergency Casualty Care, NAEMT has developed these courses for its cadre of instructors:
EMS Safety
Psychological Trauma in EMS Patients
Principles of Ethics and Personal Leadership
NAEMT also plays a leading role in federal-level EMS initiatives that strengthen and grow the profession. NAEMT leaders, on behalf of the organization's members, have been closely involved in the:
Representation is a privilege
Long ago, the tagline for American Express was, "Membership has its privileges." Representation isn't a given. It's a privilege that I know comes with paying membership dues and being OK that sometimes there will be some stops and starts as NAEMT continues the long journey of advocating for and advancing EMS.
Your reasons might be different for belong to NAEMT or not belonging. I am a longtime NAEMT member because NAEMT is the only membership association that consistently represents the interests of EMS to the federal government. Sure, I have taken advantage of a few of the member discounts, but what has always mattered most to me is the NAEMT advocacy efforts.
I am proud to be a member and impressed by NAEMT's leadership role on behalf of our profession in meetings with federal officials, elected representatives, and national media during this national emergency. If you're not a member, I hope you'll consider joining or asking your employer to become an agency member.
Disclosure: I am a longtime Hilton Honors member and American Express cardholder.