Israeli volunteer EMT responds to record calls
Avraham Levi said he loves serving as a volunteer EMT and that it is his "other calling"
---
By EMS1 Staff
JERUSALEM, Israel — A volunteer EMT responded to 236 calls in January — the most on record in Israel. 
Avraham Levi works full-time as an entrepreneur who volunteers as an EMT with United Hatzalah.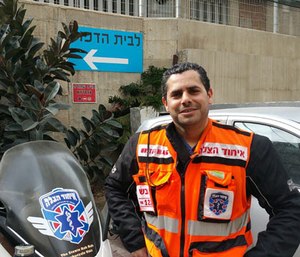 "So far, this is the record for any individual volunteer EMT with our organization," Lazar Hyman, United Hatzalah vice president, said. 
"When we looked at our monthly reports for January, we noticed that Levi had broken a record. In simple math, Levi responded to approximately eight emergency calls per day, and this is the work of a volunteer. He doesn't get paid for this," Hyman said.  
 
Levi volunteers as one of the organization's 500 ambucycle drivers.
"This is very important work. I don't count the number of emergency calls that I respond to. Whenever I hear a call from the dispatch and command center about a medical emergency in my area, I go," Levi said. "I run my own business in the heart of Tel Aviv, that is how I can allow myself to respond to so many calls and save this many people."
 
Levi joined the service two years ago after a chance encounter with an EMT who explained what he does at United Hatzalah. Levi later contacted the agency and became a certified EMT six months later. 
 
"I am truly in love with this work, and it is my 'other' calling," Levi said.