Ivy League EMS: Harvard's student-led organization gives pre-med students a taste of EMS
CrimsonEMS, which currently has 80-plus members, offers students the opportunity to become certified EMTs
---
Nestled in Cambridge, Massachusetts, Harvard University is best known for its Ivy League education.
The university, which was founded in 1636, is the oldest higher learning institution in the United States. Over 22,000 students attend the prestigious college and ultimately decide on popular majors like economics, government and social science.
And, in between studying and extracurricular activities, a select group of students gather to provide volunteer emergency medical service.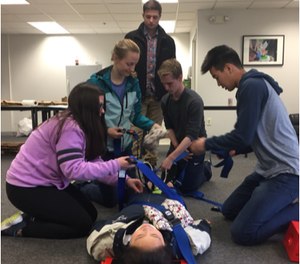 CrimsonEMS: Harvard's student-led EMS organization
CrimsonEMS, a Harvard-only student-run organization, offers students the opportunity to become certified EMTs. There are currently 80-plus members, ranging from freshman to graduating seniors. However, applicants are only admitted as freshman or sophomores.
Once admitted, students undergo rigorous EMT training for one full semester. Personnel from Pro EMS, which provides ambulance transport services to Harvard University and the city of Cambridge, teach the course. Eventually, students can participate in ridealongs with Pro EMS providers.
Students typically spend about 15 hours per week training and learning about what it takes to become an EMT from professional EMS providers. Students take the course in addition to their normal academic course load.
During the course, students learn about topics such as pharmacology, anatomy and physiology. The course also teaches students about proper ways to conduct a patient assessment and the importance of communication and teamwork. Additionally, students study the skills needed for future certifications like CPR, pediatric care and prehospital trauma support.
Because CrimsonEMS is classified as a service line of Harvard University Health Services (HUHS), the program is mostly subsidized by HUHS. As a result, students are only financially responsible for EMT testing, licensure and registration fees. And, if a student is unable to pay for the fees, then they can apply for financial aid provided by donations.
At the end of the course, students take a state practical exam. Then, students register to take the NREMT exam. After passing both exams, students receive a Massachusetts EMT-B license.
In typical Harvard fashion, the course's success rate is stellar. The Spring 2018 class boasted a 100% pass rate on the practical exam, and 95% passed the NREMT exam on their first attempt.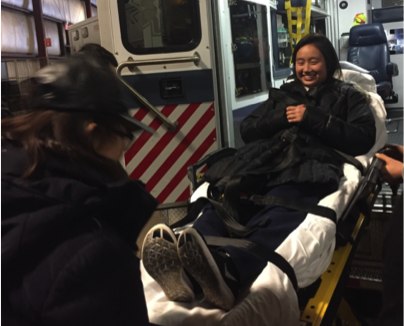 Organizing an EMS program in a college town
CrimsonEMS, which began seven years ago, is organized into three main teams: administrative, development and operations.
The administrative team includes personnel, communications, finance, social and technical officers. Then, the development team is responsible for anything related to education and external outreach. And, last, but not least, the operations team includes everything related to service, like ensuring everyone has the necessary materials, equipment and medicine.
Veteran CrimsonEMS members get together once a month to review each patient contact they've encountered, noting observations and improvements to consider in future interactions. Later, all of CrimsonEMS' members are debriefed about their patient care observations and findings during a general meeting.
Learning from past interactions to improve future patient encounters is the key to CrimsonEMS' prevention mission, according to Emilė Radytė, EMT and chief of the organization.
"Prevention is such an important part of our job," Radytė said. "We can't prevent everyone from becoming a patient. But the more we prevent, the more manageable it will be."
Therefore, CrimsonEMS developed a platform to help educate their community as well as their fellow students.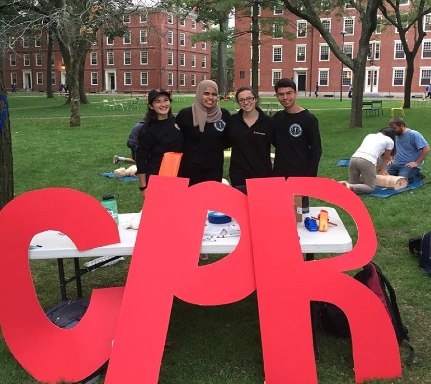 Serving the Harvard community
CrimsonEMS is a standby service and is most often requested for on-campus events such as athletic games and social functions. The team is also requested during larger events, like commencement and the infamous Harvard vs. Yale rival football game.
"We bring all of our equipment and a crew, which is between two to three people for most events," Radytė said.
And, during larger events, there can be as many as 18 EMTs on scene, Radytė said. "We try to match the amount of people and the skill level required for each event."
The team provides their services free of charge – something Radytė says her members take pride in. "We have never had any single person pay for our services, nor do any event organizers pay for our standby," she said. "We think we should be there for everyone, regardless of whether they can pay for it."
If a patient needs more advanced care, then CrimsonEMS makes that call once on scene.
"If a patient does need to be transferred to the hospital, then at least they've already had that primary assessment by a medical care professional, who has decided that it's urgent enough to go to the hospital. We want to make sure people get the care they need, when they need it," Radytė explained.
Providing appropriate care, Radytė says, motivates and inspires current members, and drives others to join the organization.
Members also focus on educating and providing fellow students with a set of tangible and lifesaving bystander skills. "We want to make sure people feel more comfortable providing care," Radytė said.
Skills range from learning about bleeding control to properly performing CPR. Last year, Harvard was designated as a HEARTSafe campus thanks to CrimsonEMS' ongoing training efforts. An online map shows the placement of AEDs across the campus, and they also organize and provide on-campus CPR trainings.
Moreover, students are given information on how to help their friends during a more casual setting, such as recognizing when someone has had too much to drink or identifying signs of an opioid overdose. "As college students, we see a lot of patients suffering from alcohol or drug-related complications," Radytė said. "Giving students these skills is in our purview."
Providing this type of information contributes to CrimsonEMS' overall goal of promoting a safer and more medically aware community.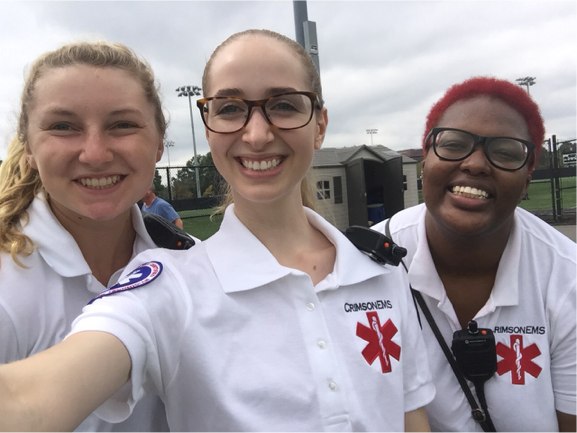 A unique insight into the challenges of EMS
After completing the course and becoming an EMT, members are required to serve with CrimsonEMS for at least two semesters. However, many stay in the program until graduation.
"This is a highly sought out program at Harvard," Radytė said. "We offer people this opportunity to learn, but at the same time we offer them to work and volunteer with specific trade skillsets."
During the interview process, Radytė said she could always pinpoint who is going to commit themselves to the organization. "You can always tell who's going to work hard," she said.
But, many also recognize how difficult it really is to work as an EMS provider. "It's an extremely tiring job," Radytė said. "It's exhausting physically, but it's also very mentally exhausting."
Many of CrimsonEMS' members currently are or want to become pre-med. Experiencing the challenging and sometimes emotional environment of EMS first-hand gives these future healthcare professionals a unique insight into prehospital medicine. 
"For me, a very important part has been the recognition of how difficult the profession is," Radytė said. "Most of the professional paramedics we work with are between the ages of 22 to 25."
And, Radytė said she always wondered why there weren't as many veteran providers. "The burnout is terrible; the back problems and the fact that people must often work overnight can be extremely challenging; and that you need to give excellent clinical and medical judgment at any point; that you need to always be alert." 
Most members, Radytė included, quickly realized just how agile EMS providers must be while on shift. "You're not always dealing with patients because there is downtime," Radytė said. "You can be on a four-hour shift, only see a couple of patients, but all four of those hours you're ready to jump at any time. It puts you in a stressed-out situation."
For Radytė, becoming an EMT and member of CrimsonEMS has given her a greater appreciation for the hard work and commitment of EMS providers. "People in the EMS profession really are ready to serve the community at tremendous personal costs, but are very supportive of each other; this ideological dedication and community truly inspires me and other EMTs I have met during this time," she said.
Read next:  Why early exposure to EMS is key to driving interest, improving recruitment