Hurricane Florence destroys volunteer EMS station
The Pollocksville Volunteer EMS station building was gutted, an ambulance was totaled and medical supplies were ruined
---
By EMS1 Staff
POLLOCKSVILLE, N.C. — A volunteer EMS agency station was destroyed after Hurricane Florence ripped through the town.
WCTI 12 reported that the Pollocksville Volunteer EMS station building was gutted, an ambulance was totaled and medical supplies were ruined by floodwaters.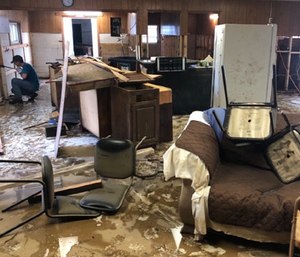 Chief Warren Franks said the flooding caused hundreds of thousands of dollars in damages.
"It's very hurtful, very discouraging but you can't stop," Franks said.
Franks added that the ambulance alone will cost $200,000 to replace.
"We're definitely going to look into getting us a rental, a loaner, or somebody could donate one," he said. "We're just asking for the community or surrounding areas, if you're listening to this, we need your help, and we need your support."
A GoFundMe was created to help support the agency. To donate, click here.