Survey community disaster preparedness protocols and approaches while traveling
When we travel, we get a chance to see other cities, meet other emergency management professionals and discover hazards that exist for the area we're visiting
---
By Dr. Randall Hanifen, faculty member, Emergency & Disaster Management at American Military University
It's vacation season for many of us. Whether you travel alone or with your family, your mind for emergency management does not turn off if you are like me.
When we travel, we get a chance to see other cities, meet other emergency management professionals and discover hazards that exist for the area we're visiting. If nothing else, it is mental gymnastics for what you should do in your community.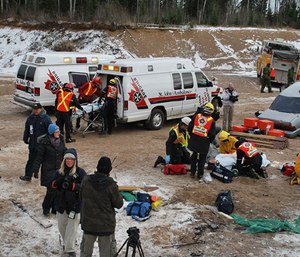 Noting community safety precautions in hotels and resorts
How many of you stay in large cities and look at the safety precautions in your hotels? I recently traveled to a resort in Mexico and I noticed the buildings did not have sprinklers. Also, there were no fire extinguishers in the buildings.
Based on the resort's configuration, I'm honestly not sure if you could have driven a fire truck within a half mile of a building. There were certainly no fire hydrants, either.
However, based on the configuration of the rooms and buildings, I could walk 10 feet to the patio door and exit the entire building with no problem. Since my room did have smoke detectors, I felt certain that I would actually have a better chance of quickly exiting than in my own house, due to the short evacuation distance.
Would my concern change if we were on the third floor and the same unsafe conditions existed? Yes, it would. I would hope that for any safety professional, it would be a concern as well.
California doing a good job of warning citizens of safety hazards
For our family vacation, my son wanted to go to Hollywood and my wife wanted to see the redwood forest. You guessed it; I logged nearly 2,000 miles so we could see the entire state of California.
We did note that California now has a fire year and not just a season; that information was confirmed by a friend who I visited on the trip. It was good to see that the cities and parks in the state have done well and provided citizens with warnings of the extreme fire danger. There were even signs saying you couldn't smoke on the street in the Hollywood Hills; you would be subject to a steep fine if you were caught.
Coastal regions in California had well-labeled tsunami evacuation routes and tsunami danger areas to avoid. This is helpful for people on a visit to the area, who may have no idea of where a safe area exists along the coastal highway.
These evacuation routes and similar safety precautions can only be accomplished through collaboration with weather experts and emergency managers, utilizing history and predictive modeling to create hazard zones. This work may be the less exciting part of emergency management, but it is one of the most important.
Planning and preparation for water rescue
The need for water rescue capabilities are enhanced in many of California's coastal regions. Many resources are dedicated to water rescue and lifeguarding services. Most of these were provided by fire and rescue departments.
While many communities over the past decade have been forced to scale back fire and rescue services in and outsource many of their functions, it was good to see these services provided by fire departments. It appears that both assets and personnel were available in good quantities to enable fire departments to perform water rescues.
Proper planning and support is equivalent to the services the community needs. Think about what services you perform versus your community's needs. What are you doing to garner the needed support from your community?
Community safety and earthquake preparation
For obvious reasons, much preparation for earthquakes takes place in California. There is one exception: a high-rise in San Francisco whose owners are facing many lawsuits due to skipping California earthquake regulations while the building was constructed. The Millennium Tower is now leaning and sinking, and the tenants who purchased that very expensive real estate must now file lawsuits to recoup their investments.
While touring the Bay area, we did learn about the drastic measures taken after the 1906 earthquake. During that incident, gas and water mains ruptured, causing a large fire and rendering manual fire protection nearly useless. Thanks to military forces, a fire line was created by demolishing buildings to make a wide swath in the city and prevent the fire from spreading further.
If your area is prone to earthquakes, what precautions have you considered for your municipality? What logistics would need to occur to create safety for your community and who would you invite to that discussion? Some community safety precautions, like the destruction of buildings in the 1906 earthquake, are so extreme that local leaders may need to be eased into considering the idea and how it would benefit lives and property.
What safety precautions could apply to your community?
Many precautions and regulations do not occur overnight. In many areas of the country, necessary changes only occur after a disaster causes the loss of life and property.
We must convince citizens and community leaders to change proactively. Ask yourself questions such as:
What have you done to entice citizens to comply with safety precautions in your area?
How are you working with elected officials to make sure legislation is ready when a community wants to be prepared for any disasters?
While a disaster may not occur in your area, you should have a campaign to show how a disaster occurring in another locality is relevant to your area and how the same type of disaster could affect it. Also, you should show what measures should be taken to avoid a disaster and subsequent losses.
This is only possible if you take the time to note what safety precautions other communities take. You can brainstorm ideas to improve community safety and work to bring those ideas to fruition.
While we all need time to unplug during our vacations, don't forget that you can also make good use of your travels. Take some of your vacation time to observe and gain new ideas about increasing community safety from wherever you visit.
About the author
Dr. Randall W. Hanifen is a shift captain for the West Chester Fire Department in Ohio and a fire service consultant. He is also a faculty member at American Military University, teaching courses in its Emergency & Disaster Management program. He has a B.S. in Fire Administration, a M.S. in Fire Service Executive Leadership, and a Ph.D. in Executive Management of Homeland Security. He is the associate author of Disaster Planning and Control. Randall serves as the executive chairperson of a County Technical Rescue Team, a taskforce leader for FEMA's Ohio Task Force 1 US&R team, and is the vice-chair of IAFC Company Officers Section. He serves as a member of NFPA 1021 Fire Officer and NFPA 1026 Incident Management committees He is credentialed as a fire officer by the Center for Public Safety Excellence and has been accepted as a fellow to the Institute of Fire Engineers. Randall has provided presentations and trainings for the Ohio Fire Chief's Association, Fire Rescue International, Emergency Management Institute, and the IAFC Board of Directors. To contact the author, send an email to IPSauthor@apus.edu. For more articles featuring insight from industry experts, subscribe to In Public Safety's bi-monthly newsletter.