La. looks to better coordinate disaster volunteer efforts
The reliance on volunteer efforts could help the state cover potential gaps in disaster response and recovery efforts
---
The Advocate
BATON ROUGE, La. — Louisiana's emergency management leaders have set out to better coordinate volunteer efforts for future disasters, as federal assistance may become less reliable.
"We think it's going to get smaller and smaller," Col. James Waskom, director of the Governor's Office of Homeland Security and Emergency Preparedness, said of federal aid during a hearing at the State Capitol on Tuesday.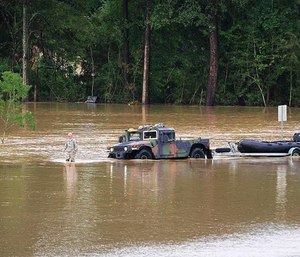 Waskom's comments are in line with remarks that President Donald Trump's administration has made after a 2017 punctuated by high-profile, severe weather events that caused more than $1.5 trillion in damage, according to federal estimates.
Though Louisiana was largely spared from the active hurricane season, other places like Texas, Florida and Puerto Rico are still recovering from major storms. In a November media briefing, White House press secretary Sarah Huckabee Sanders indicated that the Trump administration expects states to "step up" to aid their own recovery, rather than relying on big assistance payouts from the federal government.
"Texas has not put any state dollars into this process," she said during the Nov. 17 briefing. "We feel strongly that they should step up and play a role and work with the federal government in this process."
The shift toward expecting states to put up more of the initial recovery costs could have a sizable impact on Louisiana down the road, as the state continues to shift through seemingly never-ending budget crises. The state faces a nearly $1 billion budget shortfall in the budget cycle that begins July 1, and lawmakers have tapped the state's reserves twice since 2016 to plug holes in the budget. Efforts to more permanently shore up the state's spending have, so far, not yielded results.
The reliance on volunteer efforts could help the state cover potential gaps in disaster response and recovery efforts.
GOHSEP officials have been meeting with various volunteer groups, including factions of the volunteer-based "Cajun Navy," informal collectives of boaters who have drawn national attention for their search and rescue efforts after the 2016 floods in Louisiana and Hurricane Harvey in Texas last year.
"We don't want to control them," Waskom said of the initial talks. "We want to partner with them."
Sen. Regina Barrow, D-Baton Rouge, said she's also been in touch with Cajun Navy organizers about the effort to better coordinate with them. "They are interested and very eager to be engaged in the process," she said.
Waskom said there is a push toward a system of "credentialing" nonprofit volunteers before the next disaster to better keep track and coordinate an effective response. Other ideas include adding a representative from private nonprofits to the state's Unified Command Group and focusing on specific areas that have been problems in the past. The more targeted areas include possibly establishing a task force to address concerns about cemeteries that are affected by disasters. The August 2016 flood disturbed an estimated 300 graves. It took months to identify and rebury them.
The State Legislature's Joint Select Committee on Homeland Security hearing gave lawmakers a chance to get an update on disaster preparation efforts and a fuller picture of where the state's recovery from the 2016 floods stands nearly a year and a half after nearly 7 trillion gallons of rain engulfed the state.
The state's Restore Louisiana Task Force has been ramping up its $1.3 billion homeowner recovery program, with additional events throughout the state to encourage people to participate in the initial survey.
"We've got adequate funding right now," said Pat Forbes, director of the Office of Community Development.
The Federal Emergency Management Agency is winding down its manufactured housing unit program that provided mobile homes to people this month.
Sen. Bodi White, R-Central, said he's concerned that people who have been working to get back into their homes and making a good faith effort will be ejected before they are ready.
"(FEMA) didn't show a lot of love," he said, noting the Valentine's Day deadline.