Israeli EMS provides relief aid to Haiti
The team flew to Haiti Oct. 25 with medical supplies and professionals in tow
---
By EMS1 Staff
PORT-AU-PRINCE, Haiti — Air Ambulance Company Jet911 has put together a team of medical professionals to help provide medical relief to Haiti following the destruction left on the island by Hurricane Matthew.
Eli Rowe, CEO of Jet911, a pilot and paramedic with over 25 years of experience, has requested logistical help as well as medical supplies from a number of organizations and hospitals in the U.S. He has also requested that doctors and medics with specialization in disaster relief join the mission. Among the organizations that Rowe contacted was Israel's United Hatzalah.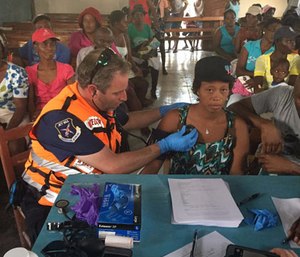 Rowe reached out to United Hatzalah and asked that the Senior Vice President of International Operations Dovi Maisel accompany the mission. The specific request was made due to the previous collaborative efforts in disaster relief that the two organizations have worked on. In 2010, Maisel worked together with Rowe in Haiti following the deadly earthquake that shook the country. 
The team departed from New York on Oct. 25 in a multiple aircraft, carrying medical teams and thousands of pounds of medical supplies and equipment to Port-Au-Prince. From the capital, they will take a local flight and then a boat to one of the islands that was hit hardest by Hurricane Matthew.
"Emergency transport can be logistically overwhelming," Rowe said. "We at Jet911 are dedicated to proactively arranging every detail of a transport in a quick, efficient and thorough manner, even one as logistically complicated as flying into a disaster area."