'This is personal': NY rushes to aid ravaged Puerto Rico
More than 140 New York City firefighters, police officers and other emergency workers are in Puerto Rico to help
---
By Jennifer Peltz and David Klepper
Associated Press
NEW YORK — New York state, home to the U.S. mainland's biggest Puerto Rican community, is sending a lot more than thoughts and prayers to the hurricane-ravaged island.
Between them, New York state and city have committed hundreds of workers and organized aid ranging from rescue helicopters to field rations. Gov. Andrew Cuomo took the first flight allowed to land after Hurricane Maria slammed Puerto Rico last week, and City Council Speaker Melissa Mark-Viverito joined city workers this weekend to aid relief on the island where her own mother lives.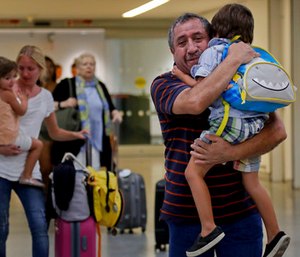 "She tells me every day not to worry about her, though the level of desperation is getting there," Mark-Viverito said Wednesday, her voice breaking. Her mother had left her damaged home to stay with friends in a high-rise with no power and had stood in a five-hour line to get gasoline.
State Assemblyman Marcos Crespo is waiting to hear from his own mother and relatives even as he fields unceasing phone calls from constituents trying to reach theirs.
"The one thing that keeps me going is knowing how many people are willing to help," said Crespo, a Democrat like Cuomo and Mark-Viverito.
For politicians and everyday New Yorkers, the storm is pulling at the ties between their state and Puerto Rico. The island is 1,600 miles (2,575 kilometers) away, but connections often feel much closer in a state with over 1 million people of Puerto Rican descent.
"This is personal," Cuomo said Wednesday. "Anything this state can do, we will do."
That includes committing hundreds of state troopers and other workers, plus organizing an aid package that reads like the shopping list for a small army: 34,000 bottles of water, 10,000 field rations, 1,400 cots, 500 flashlights, 10 electrical generators and four Black Hawk helicopters. One of New York's biggest homegrown pop stars, Jennifer Lopez, donated $1 million to relief efforts at a press conference with Cuomo on Sunday.
New York City has about 700,000 people of Puerto Rican descent — making up about 1 in every 12 city residents, and roughly twice the population of the Puerto Rican capital of San Juan. More than 140 New York City firefighters, police officers and other workers are in Puerto Rico to help, and Democratic Mayor Bill de Blasio is preparing for an expected influx of thousands of Puerto Ricans fleeing the storm's damage.
The federal government has sent thousands of employees to help the U.S. territory with needs from fueling hospital generators to trying to avert a dam collapse. Republican President Donald Trump plans to visit next week.
Puerto Rico Gov. Ricardo Rossello and Resident Commissioner Jennifer Gonzalez, the island's non-voting representative in Congress, have praised Trump's response. But the administration also has faced complaints that its efforts lagged responses to hurricanes that hit the mainland.
Maria tore through Puerto Rico last week, killing at least 16 people and leaving nearly all 3.4 million residents without power and most without water.
"It's being felt deeply here" in New York, says Edwin Melendez, director of the Center for Puerto Rican Studies at city-run Hunter College. The center's website has repeatedly crashed since it posted a list of ways to donate, he said.
New York's Puerto Rican population began growing significantly in the 1950s and '60s as people left the island in search of economic opportunity. While many families have now been in New York for generations, many identify strongly with their heritage. There's even a term, "Nuyorican," that some New Yorkers with Puerto Rican backgrounds use to span both cultures. The city's annual Puerto Rican Day sees one of New York's biggest parades of the year.
That's not lost on New York's politicians, many of whom make an annual trip to San Juan for a Latino issues conference called Somos El Futuro.
Puerto Ricans on the island cannot vote in federal elections, but as U.S. citizens, they can vote if they move to the mainland.
"That's what has galvanized the Puerto Rican community in the states — because we need to speak for citizens in Puerto Rico," said Arlene Davila, a Puerto Rico-born anthropology and American studies professor at New York University.
While political calculus may be part of New York officials' rush to respond to Maria's battering, Baruch College political scientist Douglas Muzzio believes there's "sincerity along with the self-interest" in helping a large, worried population.
"It affects more than Latinos," said Muzzio, whose Puerto Rican son-in-law hasn't been able to contact an aunt on the island.
Visiting a firehouse Saturday, de Blasio vowed New Yorkers would stand by Puerto Rico.
"When Puerto Rico asks, 'Where is New York City in our hour of need?'" he said, "We say simply say: 'Presente.'"