Paramedic remains in critical care unit 3 months after crash
Rory Barros continues to recover are undergoing 15 surgeries to repair fractures, leg burns and other injuries
---
By EMS1 Staff
TEMPLE, Texas — A paramedic is still in a critical care unit more than three months after a car struck him and pinned him against an ambulance at a crash scene.
KWTX.com reported that East Texas Medical Center paramedic Rory Barros, who was struck by a vehicle Aug. 19, continues to recover after undergoing 15 surgeries to repair fractures, leg burns and other injuries.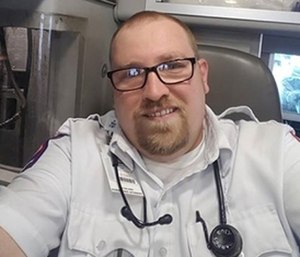 "My critically injured left leg has now been completely covered by skin grafts and is healing," Barros said. "My spirits are high, but there's still a long road of recovery ahead."
Barros has been unable to walk while he waits for his skin grafts to heal completely.
The driver of the car that struck him was arrested and charged with intoxication assault on a public servant and driving with an invalid license, according to the report.
Barros thanked the city, friends, family and colleagues for supporting him during his lengthy recovery process.
"Everything looks like it's on the up and up," he said.