Former Conn. EMT accused of station arsons appears in court, new case details revealed
Arrest warrant affidavits reveal police accounts of the events leading up to Richard White's arrest
---
Zach Murdock
Hartford Courant
MIDDLETOWN, Conn. — The former ambulance employee charged with firebombing several Hunter's Ambulance facilities late last month told police he needed to "cool off" after a fight with coworkers just hours before investigators believe he blazed a trail across Connecticut and fled into Pennsylvania, according to newly released court documents.
Richard White, 37, of Torrington, appeared in a Connecticut courtroom for the first time Wednesday after he was extradited to Old Saybrook from central Pennsylvania, where he was captured by Pennsylvania State Police the night of the fires on Feb. 27 while attempting to flee west on Interstate 80.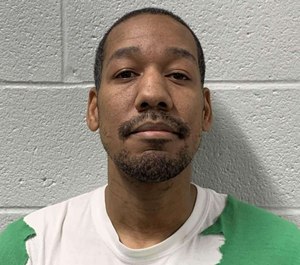 White was charged with a series of arson and bomb manufacturing offenses in connection with the string of fires that stretched from Old Saybrook to Meriden to Roxbury, including alleged attacks on two Hunter's Ambulance facilities, a firehouse and a private home, and more charges are expected, police have said.
A set of arrest warrant affidavits released Wednesday reveal the daylong series of events began at about 10:15 a.m. Feb. 27 when Meriden police were called to the Hunter's Ambulance facility on West Main Street for a report of a physical altercation between employees, court records show.
White had been placed on administrative leave "pending an investigation into his conduct earlier in the day while treating a patient" after a coworker reported his concerns to managers, according to one arrest warrant affidavit. White attacked that coworker on his way off the property after meeting with supervisors and had to be tackled by several other coworkers to break up the altercation — all of which was captured on security cameras.
Coworkers said and the security camera footage showed White then ran away to his gray Ford Taurus, which has a particular rear spoiler, and drove away before police arrived, records show.
Police reached White by phone a short time later and asked him to come to the police station to talk about the fight, but he refused and told police he needed more time to "cool off," according to one warrant affidavit.
Later that afternoon, at about 3:20 p.m., Old Saybrook firefighters responded to an alarm at the Hunter's Ambulance barn and found a glass mason jar filled with fluid and a lit wick burning in a common room of the building, according to another arrest warrant affidavit. Firefighters put out the small fire with a water can and investigators quickly found security camera footage that showed White's Taurus arriving before a man, who a Hunter's leader recognized as White, tossing a flaming jar into the same common area.
About 35 minutes later, another homemade Molotov cocktail was thrown at the Hunter's Ambulance building in Meriden in the same spot where White had been taken down by coworkers earlier in the day, records show. The building includes a dispatch center, so it is staffed 24 hours a day, and another employee quickly found the burning jar on the sidewalk outside and used a fire extinguisher to stop it from spreading another "6-10 inches" to the side of the building.
Security camera footage revealed it was White, in his same Ford Taurus, who could be seen throwing the jar out the driver's side window of the car, according to an arrest warrant affidavit.
Investigators believe White caused two other similar fires a short time later at a firehouse and a private home in Roxbury and police expect to file additional charges against White regarding those incidents. No other new details were available about the Roxbury fires Wednesday.
White appeared Wednesday in Superior Court in Middletown on third-degree arson and third-degree burglary charges connected with the Old Saybrook fire. He will appear Thursday morning in Superior Court in Meriden on first-degree attempted arson, manufacturing of bombs and breach of peace charges in connection with the fire and fight in Meriden.
"Obviously, this is not one of those cases where we need a crystal ball to determine whether or not he's a flight risk. He actually set these fires and then fled the state," Senior Assistant State's Attorney Kevin Shay said. "He was only located by a process known as 'pinging' his cellphone and that's where it was determined by folks here in Connecticut that he was crossing into Pennsylvania."
A judge ordered White held on $400,000 total bond for all of the charges. White's public defender indicated he could not afford any bond, but should he eventually post it, he will be ordered to wear a GPS monitor and stay away from Hunter's Ambulance locations or employees.
"Today is the first step in Connecticut holding Richard White accountable for his crimes against public safety," Old Saybrook police Chief Michael A. Spera said Tuesday. "Any person who seeks to do harm to those responsible for saving human lives is a danger to society."
___
(c)2021 The Hartford Courant (Hartford, Conn.)
McClatchy-Tribune News Service