My 'why': How the first responder community helped me heal
After losing her sister six years ago, EMS1 columnist Sarah Calams explains how she was able to heal by working closely with the first responder community
---
A little over six years ago, my life as I knew it changed in the blink of an eye.
I was motionless: In a deep sleep and dreaming about my basketball glory days.
Ring, ring, ring.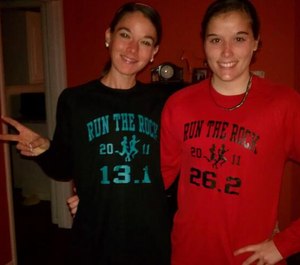 Ring, ring, ring.
I heard the sound in my dream, but still didn't wake up.
Ring, ring, ring.
This time, I woke up, looked over at my nightstand, and saw the word "Stephanie" plastered across the screen next to 1:15 a.m.
What's she doing calling me at this hour?
I chalked it up to an accidental dial and rolled over to continue sleeping.
And for that split second in time, everything was right. And then it wasn't.
Getting the call
"Something is wrong with Stephanie," my mom shouted as she burst open my bedroom door half-awake.
My heart leapt out of my chest and I frantically ran down stairs to get the full story.
It was now 1:30 a.m. and I couldn't stand still. I paced back and forth; I listened for my dad's voice on the phone discussing if 911 was called or if paramedics were giving CPR.
Wait, wait, wait. What's wrong? What's wrong with my sister?
I could hear the frustration and worry in my dad's voice as he tried to talk on the phone and that's when I knew something was really wrong. My dad, a retired LAPD police officer, couldn't keep it together. This is when my panic sunk in.
My hands, which were always steady without fault, were shaking uncontrollably. My stomach was in knots.
"Is she breathing? Does she have a pulse? Did you give her CPR? How long has she been down? Did you call 911? Hang up right now and call 911," my dad worriedly said to her then-boyfriend.  
The questions from my dad in the background became a blur. My eyes, still not fully focused, were filled with tears. I couldn't let them pour just yet, though.
She will be OK. She has to be OK. She's going to be OK.
I repeated this phrase in my head for an hour. I didn't speak. I didn't move. I just sat there. Frozen. Helpless. Terrified.
At 22 years old, I still needed my big sister.
Care and comfort
Seizure … aspiration … delayed CPR … may never be the same … might not make it … touch and go … may have irreversible brain damage …
The words coming from a sleepy ER doctor came in and out as I tried to listen and understand. I was now shivering. I ran into an empty bathroom stall and vomited.
The hospital my sister was transported to was very small and doctors felt like she needed more specialized care.
My dad made a phone call to a close family friend – who happened to also be a CareFlight flight paramedic – and his crew transported my sister to a top-notch hospital. After arriving at the hospital, he let me ride in the elevator as they transferred her to the ICU.
Once she was in her room, I sat in an empty, stark white hallway waiting for my parents. Without a second thought, he sat right beside me in silence. I didn't ask him to. He just did.
Unfortunately, later tests showed that my sister no longer had any brain activity. She had been down too long, partly due to the delay in CPR.
Delayed CPR
Fast-forward eight months later, the "delayed CPR" phrase still ran through my head every second of every day. I took to Google and searched for CPR classes. However, what came next in my internet search turned out to be one of the best ways to heal after my loss that I never knew I needed.
A website – EMS1.com – came up in my CPR search. Upon further research, I found that there was a job opening for an editorial assistant for the very same site.
Being a journalist and news junkie to the core, I applied. A few weeks later, I had the job.
I knew I would never be able to do the job of a first responder, but through this opportunity, I could help keep them safe, continue their education and maybe help save someone else's life through something as simple as a CPR refresher or in-depth research article.
Although the pain and grief has never fully subsided – and I know it never will – the last five years working as an associate editor for EMS1 and FireRescue1 has given me more than I ever expected.
From reporting on ways to eliminate line-of-duty-deaths in fire service training, to sharing a chief's breast cancer victory story, to a feature-length retelling of the struggles and triumphs of multiple women who rose through the ranks in different areas of the San Francisco Fire Department, to providing information to volunteer responders on how to prepare for active shooters and explaining why the opioid epidemic should be first responders' top priority, I have never felt more honored to be trusted by a community that deserves the world for their never-ending dedication.
A thank you to first responders
My initial goal started off simple and quickly grew and expanded in ways I can never thank you all for. I will never be able to fully explain my gratitude to a flight paramedic who took the call, responded and tried his very best to save my sister. He showed up, time and time again, after the fact, as well. He was there – donned in his uniform – in the pews during her celebration of life service. He and his crew showed up to countless charity fundraisers that my dad later founded in honor of my sister. My goal was to keep him safe as a thank you for his friendship to our family and dedication to his career. And, along the way, I hope I've helped keep other dedicated public safety professionals safer as well.
If you haven't heard this lately, thank you. Thank you for all you do. Your important and life-changing work does not go unnoticed – even during the most routine calls, or those without a happy ending. And while I sign off for the last time as an associate editor for the websites that helped me become whole again, I will always keep your safety at the forefront of my mind.
Be safe, train hard and never forget that you're making a difference.