Community paramedic program cuts mental health patient call volume
By triaging patients with mental illness, especially repeat users, the Grady EMS Upstream Crisis Intervention Group provider has improved care, saved significant money and boosted morale
---
The Grady EMS Upstream Crisis Intervention Group launched in January 2013 and is the brainchild of Michael Colman, vice president of EMS operations. While reviewing call volume data, Colman noticed that about 6 percent, or 6,410, of GEMS 911 calls were NAEMD triaged as category 25, which means psychiatric/suicide attempt.
Upon further analysis, Colman realized that an overwhelming portion of their frequent users — callers using EMS at least five times a month — suffered from a psychiatric illness. A financial analysis using a sample of 156 patients from this group determined that it cost Grady EMS over $100 more than they received in reimbursement for each of these transports.
In addition, the emergency department spent over $400 more on each patient than they received in reimbursement. It quickly became obvious to Colman that caring for these patients in the current manner was unsustainable.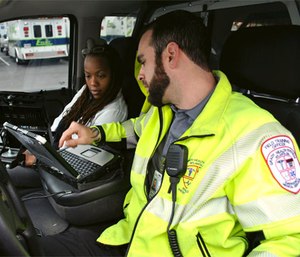 A community paramedic project focusing on the care and transport of patients with a psychiatric complaint was launched. And room for improved patient care was quickly noticed.
Patients experiencing mental health crisis were routinely subject to unplanned physical restraint, chemical restraint, police restraint and even arrest. Grady EMS wanted to find a way to better meet the needs of this special group of patients.
Pilot community paramedic program
In late 2012, a pilot program was developed and began operation on Jan. 14, 2013. The Grady EMS crisis response team consists of a paramedic, a Grady Health System licensed counselor, a Behavioral Health Link clinical social worker and in some cases a third-year psychiatry resident.
During the pilot phase, the Grady EMS crisis group co-responded with ambulances, self-dispatched or responded at the request of Grady EMS caregivers on scene. The role of the team paramedic is to provide a medical evaluation and assessment. During the pilot phase, the GEMS crisis group did not respond as an independent unit and was only available during the day Monday through Friday.
Full program launches
The pilot phase concluded at the end of April and the Crisis Intervention Group began responding as the sole unit — without other co-responding ambulances or personnel — based on CAD data and proximity. The unit's hours changed to reflect the demand of EMD category 25 calls and were doubled from 40 to 80 hours per week.
All Grady EMS paramedics were provided in-service training on the Georgia Crisis Action Line system and were able to access that system from the field when the crisis unit was not available.
The paramedics would call the GCAL number and then hand the phone to the patient. The average time to determine a disposition for a patient was 7 to 10 minutes.
This process allows for a mental health professional to evaluate the patient and determine the level of risk over the phone. The mental health professional stays on the phone with the patient and completes a safety plan after the paramedic obtains a patient refusal.
The crisis action line professional can also dispatch a mobile crisis team to the location within one to two hours or inform the paramedic of the necessity to transport the patient to an emergency psychiatric receiving facility.
Grady EMS has been allowing crews in some cases to transport patients to places other than an emergency department for many years now. As an extension of this program, the crisis response team transports some patients directly to in-patient psychiatric facilities.
For the patient, this process completely avoids unnecessary emergency department visits as it is essentially a direct admit into an in-patient mental health facility. Online Grady EMS medical direction is consulted prior to patient transport in the crisis team's SUV.   
In addition to on scene crisis team referring psychiatric patients to out-patient services, Grady EMS established an agreement to allow 911 call takers to directly transfer some callers who met NAEMD 25-alpha/omega criteria to the crisis action hotline. This transfer process is similar to the process used for the nurse advice and poison control lines. No ambulance responds unless GCAL calls Grady EMS back. 
Aside from the program's process changes, training throughout EMS fire and police organizations has resulted in much better care for Atlanta residents with mental illness. Today, many patients who in the past would likely have been arrested are de-escalated and helped by the techniques learned from Behavioral Health Link and its staff.
When restraint or arrest are unavoidable, the joint training and relationships developed between the police and EMS providers helps remove stress from the process for all involved.
Cost savings of the community paramedic program
In 2013, Grady EMS dispatch transferred 175 calls directly to Behavioral Health Line saving Grady EMS about $13,000. The Grady EMS Upstream Crisis Intervention Group responded to 20 percent of EMD category 25 calls totaling 1,250 responses.
The team obtained 275 refusals/no transports. Many of those patients were provided with safety plans and outpatient appointments, which prevented unnecessary emergency department visits totaling about 1,925 bed hours.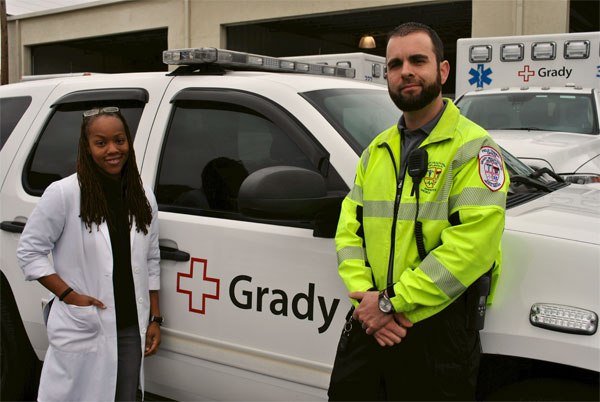 Paramedic Matt Thornton and DeAnn Bing, MD (Photo courtesy Grady EMS)
Colman reported the financial impact of these non-transports saved the emergency department and EMS system over $140,000. To put this in perspective, imagine a 24-bed ER being empty for more than 3 days.
Combined with these non-transport referrals, the group generated other cost savings totaling just over $248,000 for FY2013.
In 2014 the psych unit responded to 1,778 calls, potentially saving EMS over $100,000. In 2015, Grady EMS received 7,668 calls that were psychiatric in nature. Of those, the psych unit handled over 20 percent, again saving EMS over $100,000.
Increased job satisfaction for Grady EMS paramedics
Many EMTs and paramedics are initially attracted to EMS as a way to earn a living while helping people. Almost inevitably, that newness wears away and becomes a grim realization that EMS in its most common form does not typically offer a long-term solution to the patient's underlying problem. When that happens, the patient becomes a frequent flyer that no one wants to hear from.
Program director Tina Wright describes members of Grady EMS Upstream Crisis Intervention Group as problem solvers. She makes no illusion that the work is easy. Wright reports that the providers working on this unit are normally busier than their colleagues on the transport units.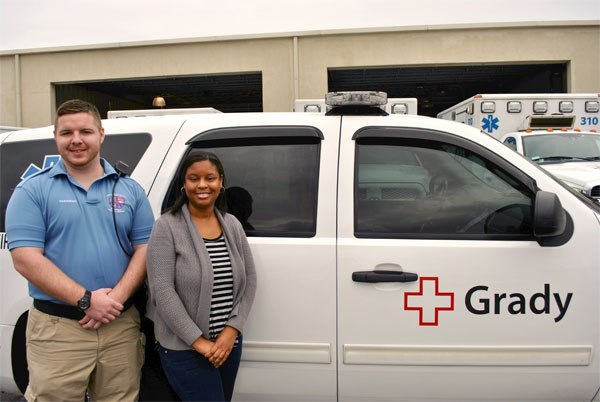 Paramedic Tennyson and mental health social worker Candace respond to patients with psychiatric illness (Photo courtesy Grady EMS)
Still the group members report higher-than-normal job satisfaction. In fact, some have even turned down promotion to field training officer in order to stay assigned to the crisis team.
Wright says that members of this team know they are having a huge long-term impact on the lives of virtually every patient they encounter. Critical thinking and solution driven decision-making are key abilities. All team members are empowered to do nearly whatever needs to be done to help meet the needs of their patients.
Wright reports that the 911 call volume generated by their mental health frequent users has decreased by well over 50 percent, which translates into thousands of calls.
For Grady EMS providers answering 911 calls, the success of the Upstream Crisis Intervention Group means they answer fewer calls generated by patients not necessarily experiencing a life-threatening emergency. It goes nearly without saying that the Upstream Crisis Intervention Group is well-loved by the paramedics and EMTs who prefer acute 911 calls from traumatic injury or medical illness.
Employee fulfillment is one of the most important keys to reducing turnover. Allowing paramedics to specialize and focus on their area of passion, like responding to patients with psychiatric illness, can have a huge impact on attrition rates. Allowing paramedics to grow and expand their area of interests while staying with the organization keeps experience and hard-earned knowledge from being lost.
Encouragement for other organizations
Wright, Colman, and Eric Eason of Behavioral Health Link want other organizations to know about the Upstream Crisis Intervention group. They also wanted to encourage other EMS organizations to evaluate the users in their system and learn what needs are not being met.
Wright challenged any organization to grow its services and personnel. "We stepped back and asked: Is there a different way of doing what we are doing," Wright said.
Eason encourages other organizations to reach out to potential mental health service providers near them. "If you don't find anyone with the vision it takes to do what you want, have them call us here at BHL, we'll gladly consult with them and see if there's anything we can do to support their efforts." Eason said.
Colman regularly receives calls about the program. He is glad to help other organizations.