EMS leaders, providers respond to Buffalo Bills player's collapse, on-field treatment
Social media discussions have included CPR best practices, information on cardiac care and expressions of pride in the industry
---
By Leila Merrill
EMS1
CINCINNATI — Buffalo Bills player Damar Hamlin remains at the University of Cincinnati Medical Center in critical care Tuesday, a day after his heart stopped during a game, the Bills said via Twitter.
Since the 24-year-old safety went into cardiac arrest and collapsed, EMS experts have been weighing in on EMS providers' on-field response.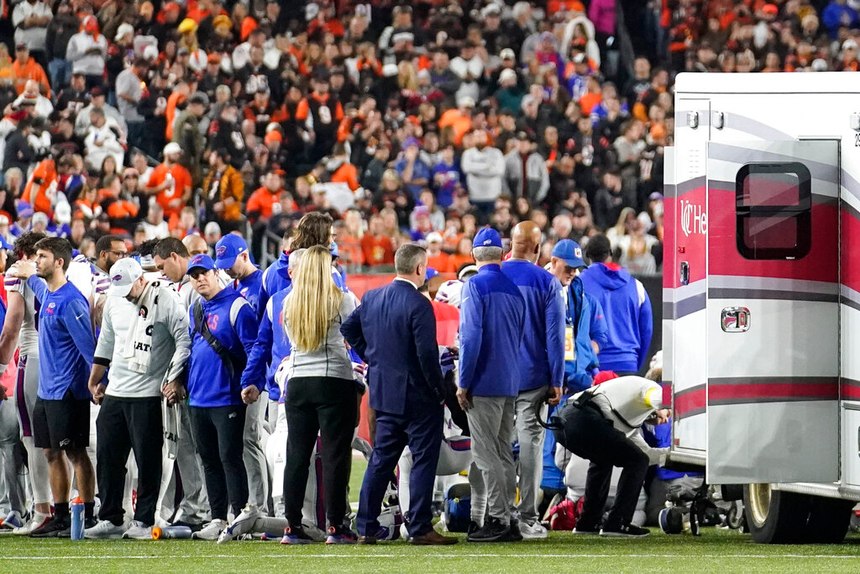 Here is a collection of social media responses.
Resuscitation best practices
Some discussed prehospital resuscitation best practices.
Every pause in CPR raises the % chance a person doesn't make it. You stay still so you can have non-stop CPR. Paramedics have the same medications as the hospital, so they have to stay and work. https://t.co/pG5X6ZyDne

— Paramedic Wheaton 💉☣ (@MrJameWheaton) January 3, 2023
A shout out thread to the EMS personnel and medical staff on the field for Damar Hamlin last night.
In situations like that, every second is paramount to a positive outcome. Every paramedic knows what to do for a cardiac arrest patient. We spend a lot of time training for it.

— Jon McCarthy (@JonMassCasualty) January 3, 2023
Cardiac care education
Some explained cardiac arrest and its treatment to members of the public scrolling for information.
Bystander CPR
To some, this has been a prime moment to discuss the importance of bystander CPR, which improves survival rates.
Demar Hamlin is still alive and fighting because of early CPR and defibrillation! The best thing you can do is learn CPR!!

— Brian W (@EMT0530) January 3, 2023
EMS pride
This has been a time of pride, too, for the way those on the field performed after Hamlin went down.
Last night the world saw US #paramedics at their best, performing under incredible pressure, doing their job expertly. The #EMS system did its job. This cements the critical role of EMS as a part of the #healthcare system.

— Kevin Collopy, MHL, FP-C, NRP (@ktcollopy) January 3, 2023
These trainers/paramedics/doctors/etc were working on Hamlin in front of 65k fans, with millions tuning in, surrounded by 100+ players closely watching and went through several minutes of trying to restore his heartbeat — which they did.

Just amazing. Hope good news continues🙏🏼 https://t.co/fXqEpQMrbx

— Steve Benko (@SteveBenko) January 3, 2023
Last tweet regarding this: obviously this is very serious. However, I am incredibly proud of the EMS and the paramedics who responded so swiftly. Those crucial seconds and mins are crucial to prognosis. I hope and pray that Damar Hamlin recovers from this terrible health crisis. https://t.co/f2rUiOb5mn

— Riyaz Manjiyani, PT, DPT (@RiyazManjiyani) January 3, 2023