Wash. county 911 center sees improvements in first year as independent agency
The center has increased its staff by 50% and dispatchers say they are experiencing less stress
---
Katie Fairbanks
The Daily News, Longview, Wash.
COWLITZ COUNTY, Wash. — In the 30 years dispatcher Melissa Thomas has worked at Cowlitz County's 911 center, it has been fully staffed once, and only for six months.
But since the call center became an independent agency almost a year ago, the dispatch staff has increased 50%, reducing some of the stress and overtime involved in a high- intensity job.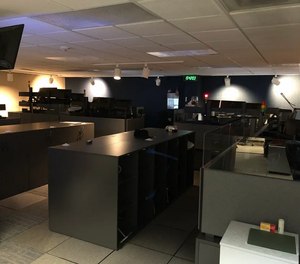 "We're feeling some relief," Thomas said.
But there are other signs of progress. Plans are taking shape to build a new 911 dispatch center next to Lowe's to replace the cramped and flood-vulnerable center in the Cowlitz Hall of Justice. And decision making, once divided among three governing bodies, has been streamlined.
"Thus far, it's gone good," said Cowlitz County Commissioner Joe Gardner, the chair of the new 911 board. "I think there's quicker direction provided to the (center) director and staff. ... I'm excited for what the future holds for the 911 center as an independent agency."
Cowlitz County commissioners voted in March 2018 to create the independent agency to address problems from the center being run by three governing bodies. It officially took over operations in January 2019. Representatives from the cities of Longview and Kelso, Longview police and fire, Cowlitz 2 Fire & Rescue, Cowlitz County Sheriff, a county commissioner, representatives from small fire and police agencies make up the nine-member Board of Directors that oversees the center.
Dave LaFave, Cowlitz 2 Fire & Rescue chief, said he thinks the change has been an improvement.
"We see progress and that's the key," he said. "The board was able to establish goals right at the beginning, and I believe those are being met."
Phil Jurmu, Cowlitz 911 Center executive director, said along with the regular board meetings, he often meets with members to discuss individual concerns.
"We're all looking in the same direction, providing the best services for Cowlitz County," he said.
At the direction of the agency's board, Jurmu said he's identified three priorities: Recruitment and retention of dispatchers, constructing a new dispatch center and improving the culture and climate.
The center has been short-staffed for years. Jurmu said when he came on in September 2018, the agency had 14 dispatchers. It now employs 21, three of whom are in training. Jurmu said he's working on recruiting two more to get the center to full staff.
Hiring dispatchers is challenging, Jurmu said, in part because it's hard to screen for the skills required to be a good one, such as multitasking. Training takes seven to 10 months, and Jurmu said it's not until the fifth month that he can tell if a new hire is working out. He said he hired a handful of dispatchers earlier this year and only one made it through the training.
"I don't think people understand what it means to be a dispatcher," he said. "One new hire said this is the hardest thing she has ever done. It's very challenging."
Thomas said she and her fellow dispatchers have to do it all, including answering business lines after hours, taking all 911 calls, and dispatching first responders. They also have to remember all the different agencies' policies and procedures, she said.
"There is a lot to learn, especially for new people," Thomas said. "I think it is a surprise."
Along with hiring new dispatchers, the call center raised the dispatchers' wages to be more comparable to other areas, which allowed the center to hire three dispatchers away from other agencies, Thomas said.
Thomas said she and the other call center staff are looking forward to moving into a new building in the next couple years.
The agency is cramped in the Hall of Justice basement. Jurmu said he is working with the City of Longview to build the facility next to Lowe's at 2790 Ocean Beach Highway, where the city plans to build a new fire station. It's too early to know when construction will start or exactly how much the facility will cost, Jurmu said, but he expects it will cost around $10 million.
The agency is funded by a portion of sales tax revenue, user fees, service agreements with agencies and telephone excise fees. Jurmu said the agency has the funding available for its new hires and building the new facility. A consultant is looking into whether a loan or bond would be better to fund the new 911 center, he said.
Gardner said although there's been progress on finding a new location, the board was hoping to be further along in building a new facility.
The board requested Jurmu keep them updated on technology developments so the center can invest in radio equipment. The center is also working on improvements to radio towers to help close gaps in communication, he said.
"Everyone has rallied around (the center,)" he said. "We have super good people here, and I think we're hiring good people, too."
———
©2019 The Daily News, Longview, Wash.
McClatchy-Tribune News Service