Tense 911 call, bystander CPR preceded EMS providers' arrival at Lisa Marie Presley's home
The singer's housekeeper and a man believed to be her ex-husband spoke with a dispatcher
---
By Alexandra Del Rosario
Los Angeles Times
WEST HILLS, Calif. — A tense and at times confusing 911 call preceded singer-songwriter Lisa Marie Presley's shocking death on Jan. 12.
On Tuesday, the New York Post obtained and released the emergency call from the day of the singer-songwriter's death. Speaking to a 911 operator in the brief recording are Presley's housekeeper and a man believed to be her ex-husband Danny Keough.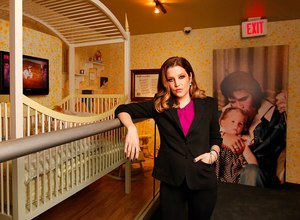 On Jan. 12, emergency personnel responded to a 10:37 a.m. call at a home off Las Virgenes Road in Calabasas, where Presley suffered a cardiac episode.
"What's the address of the emergency?" the operator asks Presley's housekeeper, who cannot seem to articulate the location.
"How 'bout Provence Drive?" the operator says.
"It's Normandy Drive," the housekeeper replies.
"Yes, but the closest street on the corner — is it Provence Drive?" the operator presses again.
"I really don't know," Presley's housekeeper says, although she clarifies for the operator that she's calling from Calabasas, a city in L.A. County's San Fernando Valley.
After hearing another voice over the line, the 911 operator encourages the housekeeper to hand the phone over. The man does not identify himself, but Keough was at the home Thursday and reportedly performed CPR on his ex-wife before paramedics arrived.
"Sir, listen. Paramedics are already on the way. Code that they need to get in there?" the operator asks the man.
"No, there's a security gate on the neighborhood, but they'll just let them through," the man responds. "How far are they?"
The operator responds he has "no idea where they're at right now."
In another clip, the man seems to confirm that the paramedics have arrived at the scene.
Thursday evening, Priscilla Presley announced that her only child with rock icon Elvis Presley had died. She was 54.
"Priscilla Presley and the Presley family are shocked and devastated by the tragic death of their beloved Lisa Marie," said a statement from Priscilla Presley's publicist. "They are profoundly grateful for the support, love and prayers of everyone, and ask for privacy during this very difficult time."
On Friday, The Times confirmed that Lisa Marie Presley would be buried alongisde her late son, Benjamin Keough, and her father at Graceland.
The "Storm & Grace" singer will be celebrated during a public memorial service at the mansion in Memphis, Tenn., on Sunday at 9 a.m. CT, her daughters, Riley Keough and Harper and Finley Lockwood, announced Monday.
This story originally appeared in Los Angeles Times.
©2023 Los Angeles Times.
Visit latimes.com.
Distributed by Tribune Content Agency, LLC.
McClatchy-Tribune News Service