NJ officials shut down emergency squad
Officials said the Delran Emergency Squad was shut down because its chief, Donald Horner, tried to hinder an investigation and lacks certification
---
By EMS1 Staff
DELRAN, N.J. — State officials have shut down an emergency squad, claiming its chief lacks certification and tried to hinder an investigation.
Cherry Hill Courier-Post reported that New Jersey's paramedic director, Scot Phelps, ordered Delran Emergency Squad to cease operations in a letter announcing the suspension.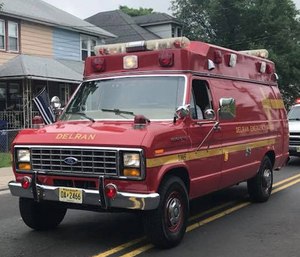 "You may not, under any circumstances, operate as a BLS (basic life support) service provider," the letter read.
The letter claimed that Delran Emergency Squad Chief Donald Horner threatened investigators and was currently operating "without a current EMT certification."
An investigator confirmed that Horner's EMT certification expired in 2010, and his instructor certificate lapsed in 2016.
In the letter, Phelps said investigators had to halt an investigation "due to threats of bodily injury" from Horner.
"In fact, you were belligerent, combative and uncooperative," the letter read, adding that Horner was "verbally abusive … and even stated to the investigators that you needed to leave before you 'killed yourself or killed you,' meaning the investigators."
"You followed them out, continued to scream and threaten them and, at one point, were nose-to-nose with one of the investigators," the letter continued.
Phelps added in the letter that when investigators returned the following day, they were referred to an IT specialist, who "advised that his access had been restricted and he could not help any longer."
The investigation eventually determined that the squad was in violation of a requirement that each ambulance carry at least two certified EMTs.
"Specifically, you, Don Horner, worked on an ambulance as a second EMT at least 27 times from January 2017 to present, even though you were not certified to act as an EMT," the letter said.
2018 0072V.delranEMS.summarySuspensionR by Ed Praetorian on Scribd