University of Washington develops cardiac arrest monitoring tool for smart speakers
The tool can detect agonal breathing 97% of the time and researchers hope to make it into an app
---
By EMS1 Staff 
SEATTLE — University of Washington researchers have developed a proof-of-concept cardiac arrest monitoring tool that patients can use while they are sleeping or within a certain proximity.
The research – funded by National Science Foundation – demonstrates that the tool can detect agonal breathing 97% of the time if the patient is up to 6 meters away. Researchers now hope to make this tool into an app that patients can download onto their electronic devices, including smart speakers such as Alexa or iPhones.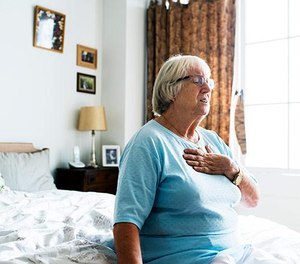 To develop the tool, researchers collected agonal breathing data from 162 real 911 calls made to the Seattle's EMS agency between 2009 and 2017. They were able to put together a total of 236 clips by extracting 2.5 seconds of audio from each of those calls.
The recordings were captured on Amazon Alexa, iPhone 5S and a Samsung S4. Then, by using machine learning techniques, researchers were able to boost the dataset to 7,316 positive clips. Eighty-three hours of audio data were also collected during sleep studies to collect the negative dataset that included sounds like snoring, obstructive sleep apnea or normal sleeping noises.
"Right now, this is a good proof-of-concept using the 911 calls in the Seattle metropolitan area," co-corresponding author Shyam Gollakota, an associate professor in the UW's Paul G. Allen School of Computer Science & Engineering Department, said. "But we need to get access to more 911 calls related to cardiac arrest so that we can improve the accuracy of the algorithm further and ensure that it generalizes across a larger population."
The next step is for researchers to test the algorithms and turn it into an app in order to ensure that the system doesn't classify different types of breathing as agonal breathing.
 "A lot of people have smart speakers in their homes, and these devices have amazing capabilities that we can take advantage of," Gollakota said. "We envision a contactless system that works by continuously and passively monitoring the bedroom for an agonal breathing event, and alerts anyone nearby to come provide CPR. And, then, if there's no response, the device can automatically call 911."
The team of researchers are planning to commercialize this technology via the UW spin out, Sound of Life Sciences, Inc.